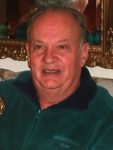 William R. "Bill" Dalton, 77, of Sheffield, PA., died Friday morning, October 20, 2017 at UPMC Hamot, Erie, PA., after a brief battle with lung cancer. He was born July 8, 1940 in the old homestead in Sheffield, PA., moving one house down where he resided his entire life. He was the son of William C. and A. Leona Nelson Dalton. Bill was a 1959 graduate of Sheffield High School and the White Brothers Lumber School of Memphis, TN. He was employed as a sawer with McMillen Lumber Company of Sheffield, PA. Bill then went to work with the former G.T.E. Sylvania for 35 years as a machinist, retiring in January 2000. He was a former member of Bethany Lutheran Church, Sheffield, PA.
He served as a Past Chief of the Sheffield Volunteer Fire Department, enjoyed being a volunteer for many years on Thanksgiving Day, providing meals to the Sheffield Homebound residents. He was loved by all and enjoyed socializing, drinking coffee with his friends. Bill was a huge supporter, lover and proud member of his hometown Sheffield.
Bill is survived by his loving wife of 47 years, Carol Snyder Dalton whom he married December 13, 1969, 1 Son – Greg Dalton and wife, Julie of Sheffield, PA., 1 Grandson – Jaime Vizciano- Bellod of Valladolid, Spain, and his 4 legged best friend, Gator, several nieces and nephews.
In addition to his parents, he was preceded in death by a sister, Beverly J. Dalton Bimber.
Friends may call at the Donald E. Lewis Funeral Home, Inc., 304 East Street, Warren, PA., on Monday, October 23, 2017 from 2 to 4 and 6 to 8 P.M. where a funeral service will be conducted Tuesday, October 24, 2017 at 11:00 A.M. with Rev. Terence A. Teluch, Pastor of Sheffield United Methodist Church, officiating. Interment will be in Sheffield Cemetery, Sheffield, PA. Those wishing to place memorials may do so through the Sheffield Volunteer Fire Department, 318 South Main Street, Sheffield, PA. 16347 or Warren Cancer Center, 2 Crescent Park, Warren, PA. 16365 E-mail condolences may be sent by visiting www.lewisfuneralhomeinc.com