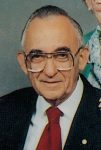 William J. Nuhfer, Jr., 92, of Warren, PA., and a resident of the Rouse Suites, Youngsville, PA., died Saturday, October 21, 2017 at Warren General Hospital. He was born March 13, 1925 in Warren, PA., to the late William J. and Katherine Mansfield Nuhfer, Sr. Bill was a lifelong Warren area resident. He had served as a Corporal with the U.S. Marine Corp., during World War II. He was employed with the Pennsylvania Railroad as a car inspector for 17 years and with the former National Forge Company in the maintenance department for 26 years, retiring in 1987. Bill was an active member with Holy Redeemer R.C. Church, and had been in charge of the church center committee from 1976 until 2010.
He served as head usher and was part of the funeral luncheon set up committee. He was a member of the Holy Name Society. Bill enjoyed being a member of the Warren Bocce Club and the senior bowling league at Riverside Lanes. Bill was an avid Warren Mall walker and enjoyed meeting his friends for coffee at Burger King.
He is survived by his wife of 71 years, Doris M. Carr Nuhfer whom he married October 5, 1946 at Holy Redeemer R.C. Church, Warren, PA., 5 Children – Marty Nuhfer and wife, Jen of Warren, PA., Timothy R. Nuhfer and wife, Barb of Reading, PA., Joseph A. Nuhfer and wife, Cindy of Warren, PA., John A. Nuhfer and wife, Cindy of Sacramento, CA., Katherine "Kay" Klakamp and husband, Chris of South Amherst, OH., 2 Brothers – Phillip Nuhfer of Warren, PA., Lawrence Nuhfer of Irvine, PA., 1 Sister – Martha Laufferty of Lakewood, CA., 9 Grandchildren, 16 Great Grandchildren, several nieces and nephews. In addition to his parents, he was preceded in death by 1 Son – Danny Nuhfer, 3 Brothers – Richard Nuhfer, Sr., Thomas Nuhfer and Michael Nuhfer, 2 Sisters – Delores Anthony, Theresa Sanden.
Friends may call at the Donald E. Lewis Funeral Home, Inc., 304 East Street, Warren, PA., on Tuesday, October 24, 2017 from 2 to 4 and 6 to 8 P.M. where a vigil service will be conducted at 3:45 P.M.  A Mass of Christian Burial will be conducted on Wednesday, October 25, 2017 at 10:00 A.M. at Holy Redeemer R.C. Church, 11 Russell Street, Warren, PA., by Fr. James Gutting, Pastor, officiating.
Full military honors will be conducted at St. Joseph Cemetery by members of the Clarendon/Sheffield V.F.W funeral honor guard and U. S. Marine Corp personnel.
Interment will be in St. Joseph R.C. Cemetery. Those wishing to place memorials may do so through Holy Redeemer ChurchBuilding Fund. E-mail condolences may be sent by visiting www.lewisfuneralhomeinc.com