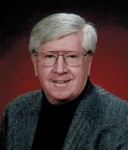 William J. "Billy" Moriarity, Jr. 77, of Warren, PA. died at his residence, Sunday afternoon, February 9, 2014 after a long battle with cancer. He was born June 30, 1936 in Indianapolis, IN. He was the son of the late William John and Wilma Laura Fields Moriarity, Sr. Billy was a graduate of Decatur Center High School in Indianapolis, IN. He earned a degree in Agriculture from Purdue University, Lafayette, IN, and started his long career with the U.S. Forest Service at the Mark Twain National Forest in Missouri. He served there as the District Ranger of the Willow Springs Ranger District and then as the Forest soils scientist in Rolla, MO. In the mid 1980's he moved to the Allegheny National Forest (ANF) in Warren, PA., as a Forest soils scientist. Throughout his career Billy was highly regarded for his professional advice and his ability to bring humor to difficult situations. In addition to his regular duties as soils scientist, Billy served in his younger years on several wild land fire crews responding to forest fires nationwide. He is remembered for his level-headed approach, his concern for the safety of his fellow crewmembers, and his ability to keep morale up. During his later ANF career, Billy worked with Dr. Chuck Williams of Clarion University on successive projects to catalogue rare plants and study watershed issues on the ANF. Billy was a key adviser during the national Rainbow Family gathering on the ANF, held at the Bear Creek area in Elk County, where he helped to identify locations better suited for trails and sanitary facilities to minimize impacts to the soil. He was fondly nicknamed "Mr. Bibs" (for the bib overalls he always wore). He also volunteered along with other ANF employees, to go to New York City to help during the aftermath of the 9/11 attacks. He assisted in ground support to transport people and drive supply trucks through congested downtown Manhattan.
He had graduated July 15, 1962 with the Indiana U.S. Army Reserves National Guard Academy as a Second LT, where he was presented the academy saber award, for academic proficiency. In 2002, Billy retired from the U.S. Forest Service. After retirement, he then attended Edinboro University, graduating in 2006 with a History Anthropology major. He was presented the Outstanding Senior Award and graduated Summa Cum Laude. He was a member of Trinity Memorial Episcopal Church. Billy enjoyed an interest in historical landscapes by photographing old barns.
He is survived by his wife, Elaine Rath Winters Moriarity, 3 Daughters – Mary Lisa Moriarity of Rolla, MO., Laura Ann Moriarity DeSplinter and husband, Randy of St. Charles, MO., Amy Elizabeth Moriarity Young and husband, Dick of Rolla, MO., 1 Sister – Wilma Jean Moriarity Corlett of Fishers, IN., 1st wife, Shirley A. Moriarity of Rolla, MO., 6 Grandchildren – Derrick Hall and wife, Allison, David and Adam DeSplinter, Sean, Sarah and Olivia Young, several nieces, nephews and 2 cousins.
In addition to his parents, he was preceded in death by 1 daughter, Sarah Kathleen Moriarity who died April 13, 1989, 1 Sister – Katherine Elizabeth Moriarity McClain, 1 Brother – Donald William Moriarity, 1 Cousin who was more like a brother to Billy, Dr. Bruce Fields who died April 23, 2013, 1 Aunt Betty Fields whom Billy lived with several summers in Camby, IN.
Friends will be received at the Donald E. Lewis Funeral Home, Inc., 304 East Street, Warren, PA. Thursday, February 13, 2014 from 10:00 A.M. until 12:00 Noon followed by a funeral service conducted there by the Rev. Matthew R. Scott, Vicar, officiating.
Interment will be in Oakland Cemetery. Those wishing to place memorials may do so through Hospice of Warren County, 2 Crescent Park, Warren, PA. 16365 or the Warren Public Library Association, 205 Market Street, Warren, PA. 16365
E-mail condolences may be sent by visiting www.lewisfuneralhomeinc.com