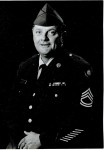 William "Brock" Braughler, 81, of Warren, PA died Sunday, November 15, 2015 at The Rouse Home in Youngsville, PA.
Born on January 7, 1934 in Punxsutawney, PA he was the son of the late Owen and Esther Graffins Braughler. On October 3, 1954 in Punxsutawney, PA he married Kay Marshall Braughler who survives. Brock was a graduate of Punxsutawney High School, Class of 1951. He served with the U. S. Air Force during the Korean Conflict, 3 years with the U. S. Navy and 27 years with the U.S. Army Reserves, retiring as First Sergeant from the Jamestown, NY unit and was called to duty during Desert Storm.
Brock and his wife moved to Warren in 1960. He was a communications serviceman with AT&T and Bell Telephone Co. for 34 years, retiring in 1995. He was a 32nd degree Mason and was a member of the Joseph Warren Lodge, the Coudersport Consistory, American Legion Post 135 where he served as Past Commander, Warren Elks Lodge, Warren Eagles Aerie, and the Shriners. Brock enjoyed drum and bugle corps and taught 8 years with the Jamestown High School Band.
In addition to his wife, Brock is survived by 3 children, Cheryl Cook of Warren, PA, Eric Braughler of Athens, AL, and Jeff Braughler and his wife, Mary Frances, of Warren, PA, 3 grandchildren, Eric Allen Braughler, John Cook and Julie Cook and step-grandchildren, Shawna Beagle and Erica Kelly. In addition to his parents, he was preceded in death by his step-father, Albert J. Sumrrall and son-in-law Paul L. Cook, Jr.
At Brock's request services will be private and at the convenience of the family. Interment will be in Pearce Cemetery, Rossiter, PA. Those wishing to place a memorial may do so through Friends of the Rouse, 701 Rouse Avenue, Youngsville, PA 16371. Arrangements have been entrusted to the Donald E. Lewis Funeral Home, Inc., 304 East Street, Warren, PA. E-mail condolences may be sent by visiting www.lewisfuneralhomeinc.com