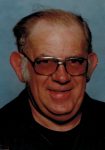 William Ambrose Kerner, 85, of Warren, PA, died on Saturday, February 17, 2018, at the John and Orpha Blair Hospice Residence in Warren, PA. Born on April 22, 1932 in St. Marys, PA, he was the son of Leo and Caroline DeGroat Kerner.
Bill served two years in the United States Army during the Korean War, being honorably discharged in December 1954 with the rank of corporal and having received the Good Conduct and National Defense Service medals. He then spent six years in the Army Reserve.
Bill attended St. Leo's Elementary and High School in Ridgway, PA, and went on to complete his education through International Correspondence School in industrial electrical engineering; military radio equipment installation and maintenance; industrial power distribution; and the Allen Bradley School on controls. He had been employed for 11 years at the Elliott Co. in Ridgway; for three years at General Electric Co. service shop in Buffalo, NY; and from the mid-1960's until he retired at National Forge Co. in Irvine, PA.
A lifelong hunter and fisherman, Bill had a passion for Alaska. He spent many summers working and mining at a Gold Prospectors Association of America camp outside Nome. He also enjoyed woodworking and gardening.
Surviving are three children; his son Mark Kerner (Cheryl Durlin) in Florida; a daughter Diane (David) Arnett of Bradford, PA; and daughter Kim Foster of Warren, PA, with whom he resided. Also surviving are a granddaughter, several nieces and nephews, and his ex-wife, Dolores Kerner in Florida. In addition to his parents, preceding him in death were his brothers, Robert Kerner and Theodore Kerner.
A Memorial Service for William Ambrose Kerner, 85, of Warren, PA., who died Saturday, February 17, 2018 will be conducted Friday, March 2, 2018 at 4:30 P.M. at the Donald E. Lewis Funeral Home, Inc. with Rev. Marcus Briggs, Chaplain of the Rouse Warren County Home, officiating.  A luncheon will follow the memorial service at First Lutheran Church. If desired, memorials may be made to Hospice of Warren County, 1 Main Avenue, Warren, PA 16365. Email condolences may be sent by visiting www.lewisfuneralhomeinc.com