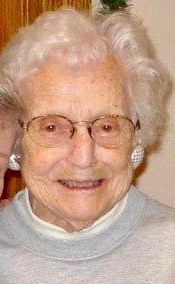 Wilda L. Rashid, 94, of Warren, PA died on Saturday, July 10, 2021, at the Watson Memorial Home, where she had been a resident since June 2012.
She was born on January 31, 1927, to the late Willis L. English and Emma Johnson English. She graduated from Warren Area High School in 1945, and later worked in the family business, along with being a homemaker and mother. She and her husband moved to Tampa, Florida in 1986. Over the years, she attended two different churches, became confirmed into the Catholic Church, and grew strong in her faith as a Christian. She was involved with the Women's Club, as well as an active volunteer at several other organizations. She formed many close friendships and enjoyed her time in Florida. When she returned to Warren in 2009, she attended St. Joseph Parish, as well as church services at the Watson Home.
Wilda was a wonderful cook, with the ability to cook a wide variety of recipes for large groups, including traditional Lebanese cuisine. She was also talented at crocheting and made many beautiful afghan blankets. She enjoyed spending time at Chautauqua Lake throughout the years, where many lifelong memories were made with family and friends.
Wilda is described by many as a gracious, lovely, and caring lady. She was generous, sweet, kind, and good to everyone who had the pleasure of being a part of her life. Wilda was always a good friend, mother, grandmother, and aunt. She will be missed greatly.
Wilda is survived by her two sons and one daughter-in-law, Alex Rashid of Warren, PA, and Roger and Carol Rashid of Blairsville, GA; two granddaughters, Chelsey Rashid of Buffalo, NY, and Monique Udell of Eugene, OR; three nieces, Paula Rosenquist, Bonnie Hannold, and Debbie Briggs; two nephews, Greg English and Jim English, sister-in-law Jeanne English, as well as a great-granddaughter and several great-nieces and nephews. In addition to her parents, she was preceded in death by her husband, Alexander Rashid, her sister, Martha Baker, her brother, Jim English, and her daughter-in-law, Cindi Rashid.
A private memorial service will be held this week. The Donald E. Lewis Funeral Home, Inc. in Warren is handling arrangements. Those wishing to place donations may do so through Hospice of Warren County, St. Jude Children's Research Hospital, or to a charity of your choice.  E-mail condolences may be sent by visiting www.lewisfuneralhomeinc.com.