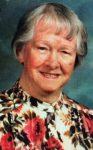 Violet B. Kavinski, 90, of Warren, PA, passed away on Saturday, January 20, 2018, at Warren Manor, Warren, PA. Born on November 25, 1927 in Warren, PA, she was the daughter of the late Archie Morrow and Delcie Korb Bimber.
Violet was a lifelong resident of Warren and was a graduate of Warren High School, Class of 1945. She was a member of Holy Redeemer R.C. Church, where she was a member of Catholic Daughters of the Americas, donated to their Chinese auctions, and helped with funeral luncheons. She had worked at Watson Memorial Home as a member of the kitchen staff. She loved baking, sewing, canning, Polka music, crossword puzzles, jigsaw puzzles, reading, traveling to her son-in-law's cabin in the Smoky Mountains, going to garage sales with her grandkids, trying new recipes, Sunday rides in the country, going out with her sisters for lunch and a ride, and correcting the morning newspaper! She had also helped with the Girl Scouts. Violet enjoyed watching Jeopardy and Wheel of Fortune.
Violet is survived by her 4 children – Tom Kavinski of Hamburg, NY, Patti Owens and husband, Larry, of York, PA, Ray Kavinski and wife, Donna, of Warren, PA, and Joseph Kavinski of Warren, PA. Violet is also survived by 11 grandchildren and 2 great-granddaughters; one brother – Russ Bimber and his wife, Connie, of OH, 2 sisters – Marilyn Sampson and Dorothy Farrell, both of Warren, PA; and many nieces and nephews. In addition to her parents, she was preceded in death by her husband, Patrick Kavinski, whom she married on August 20, 1949 in Warren, PA, and who died on April 29, 1997; and two brothers – Stan Bimber and John Bimber.
Friends may call at Holy Redeemer R.C. Church, 11 Russell Street, Warren, PA., on Thursday, January 25, 2018, from 10:00 A.M. until 11:00 A.M. at which time a Mass of Christian Burial will be conducted by Fr. James Gutting, Pastor. Interment will be in St. Joseph R.C. Cemetery. Those wishing to place memorials may do so to the Watson Memorial Home, 1200 Conewango Avenue, Warren, PA, 16365, or to the Salvation Army Warren Corps, 311 Beech Street, Warren, PA 16365. Arrangements have been entrusted to the Donald E. Lewis Funeral Home, Inc., 304 East Street, Warren, PA. E-mail condolences may be sent by visiting www.lewisfuneralhomeinc.com