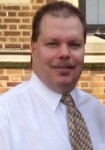 Timothy D. Dorrion, 52, of Clarendon, PA. died Tuesday evening,
January 28, 2014 at UPMC Allegheny General Hospital,
Pittsburgh, PA. after an extended illness. He was born January
20, 1962 in Warren, PA. Son of Sally Poulson Dorrion of
Clarendon, PA. and the late Thomas W. Dorrion, Sr. who died in
May 1999.
He was a 1980 graduate of Sheffield High School. He dedicated
his life to caring for others in various hospitals including Warren
General Hospital, W.C.A. Hospital and for many years at
Bradford Medical Center.
In addition to his mother, he is survived by his daughter, Lindsay
Marie Dorrion and her partner, Joe Bevevino both of Pittsburgh,
PA., 3 Siblings, Thomas W. Dorrion, Jr. and wife, Deb, Theresa
(Terri) Allison and husband, Tom all of Warren, PA., Scott W.
Dorrion and wife, Michelle of Williamsburg, VA,. Nieces and
nephews-Cheryl Dorrion Benford (Kim) Randelman, N.C.,
William J. Dorrion (partner Amy White) Warren, PA., Joseph T.
Allison (Rachel), Shawn P. Allison (Anique) all of Elmira, N.Y.,
Kristen Allison – Johnson (Neil) Kane, PA., Jennifer Dorrion,
Saegertown, PA., Morgan Dorrion, Williamsburg, VA., Jessica
Grizzle, Tyler Dorrion and Maggie Dorrion all of South Carolina
and great nephew, Jalen Dorrion, several aunts, uncles, cousins,
as well as his best pal his cat, Theo and grand pets Wilfred and
O'Malley.
In addition to his father, he was preceded in death by his
maternal grandparents, William J. and Mildred Poulson; paternal
grandparents, Margaret Dorrion German, William and Rose
Dorrion, and a special niece, Denise (Riggle) Dorrion.
Friends may call on Saturday, February 1, 2014 at Holy Redeemer
R.C. Church, 11 Russell Street, Warren, PA. from 9:00 A.M. until
11:00 A.M. when a Mass of Christian Burial will be conducted by
Fr. James Gutting, Pastor, officiating. Interment will be in St.
Joseph Cemetery. Those wishing to place memorials may do so
through the Family House, 514 Neville Street, Pittsburgh, PA.
15213 or Holy Redeemer R.C. Church Building Fund, 11 Russell
Street, Warren, PA. 16365. E-mail condolences may be sent by
visiting www.lewisfuneralhomeinc.com
The Donald E. Lewis Funeral Home, Inc. has been entrusted with
funeral arrangements.