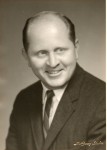 Tim Kay, 86, of Youngsville, Pa., formerly of 203 Walker Ave., Warren, died Dec. 14, 2015 at the Rouse Home in Youngsville.
He was born January 12, 1929 in Warren, Pa. the son of Howard M. and Esther Day Kay. He married Patricia L. Fletcher of Jamestown, NY on July 10, 1954 who preceded him in death on Oct. 14, 2013.
Tim graduated from the Cranbrook School in Bloomfield, Mich. after attending Youngsville High School. He was a graduate of the Wharton School at the Univ. of Pennsylvania in the class of 1951. Subsequently he served in the U. S. Marine Corps for 2 years and attained the rank of Sergeant before returning to Warren County.
Along with his brother Gordon H. Kay, Tim purchased the family business, Youngsville Star Mfg., Co. (furniture manufacturing) and operated the company for most of his working career. After the sale of Youngsville Star he was the plant manager of Union National Furniture Co., Jamestown, NY for several years. He also served on the Board of Directors of the Pennsylvania Bank and Trust Company.
Tim and his wife Pat enjoyed travel throughout their lifetime and above all they were consummate golf enthusiasts. Besides being a long–time member of the Conewango Valley Country Club he was also a 25 year member of the Port Royal Golf Club, Southampton, Bermuda. As a partner in Youngsville Skiways, Tim and his family grew up skiing. It was one of his favorite pursuits. In his earlier years he also enjoyed sailing on Chautauqua Lake and competing with his Snipe. Tim liked being outdoors, gardening and planning the perfect family picnic. He cherished his relationship with his children, grandchildren and great grandchildren and will be greatly missed at family gatherings. During his lifetime he was a member of the Conewango Club, the Chautauqua Lake Yacht Club, Masonic Lodge 547, Kiwanis and St. Francis of Assisi Episcopal Church.
He is survived by three children: Fletcher T. Kay of Warren, Pa., Elizabeth K. Morando (Adolph) of Lakewood, N.Y. and Christopher T. Kay (Lori) of Watertown, Mass. He had five grandchildren, Catherine M. Powell (Steve), Sara M. Schaefer (James), Caroline M. Allin (Case), Leslie M. Kay and Andrew T. Kay. His great grandchildren are: Elizabeth K. Schaefer, Theodore J. Schaefer, Claire S. Powell and Connor B. Powell.
Besides his wife he was preceded in death by his brother Gordon H. Kay and his sister Barbara K. Schumacher.
A memorial service for Thomas E. and Patricia F. Kay will be held in the Chapel at St. Luke's Episcopal Church, Jamestown, NY on Saturday, Dec. 19th at 11:00 AM, with Fr. Luke Fodor, Rector, officiating. Charitable contributions may be made to Hospice of Warren County or the Lakewood Library Memorial fund. Arrangements have been entrusted to the Donald E. Lewis Funeral Home, Inc., 304 East Street, Warren, PA. Email condolences may be sent by visiting www.lewisfuneralhomeinc.com