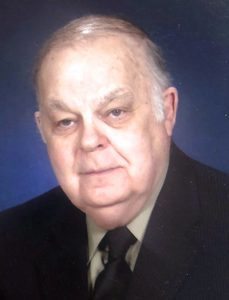 Thomas C. Meyers, 80, of Warren, PA., died peacefully in his sleep, Friday morning, December 7, 2018 at his residence. He was born in Warren, PA., on May 9, 1938. Tom was the son of Emil and Agnes Costello Meyers. He was a lifelong Warren area resident and 1957 graduate of Warren High School. Tom was employed with the former National Forge Company for 38 years retiring in 1995. He was a member of Lakewood Rod & Gun Club, Warren County Historical Society and Elk Township Historical Society Scandia Community Center & Museum. Tom was strong member of the Catholic faith. He was an avid hunter and was lucky enough to achieve a Triple Trophy – bag a bear, turkey and deer in the same hunting season.
Tom is survived by his wife, Mary Carroll Meyers whom he married May 20, 1983 in Warren, PA., 4 Children – Thomas A. Meyers and Lisa Killett and husband, Wade all of Lagrange, N.C.
Kimberly Wilson of Warren, PA., Jennifer Oberg and husband, William Sheckler of Tidioute, PA., 6 Grandchildren, 4 Great Grandchildren, several nieces and nephews.
In addition to his parents, he was preceded in death by a daughter, Sharon Grant, 3 Brothers, William E., Robert L., and infant, David Meyers.
Private funeral services will be conducted at the convenience of the family. Entombment will be in the Mausoleum of the Resurrection in St. Joseph R.C. Cemetery. There will be no visitation hours observed. Those wishing to place memorials may do so through Elk Township Historical Society Scandia Community Center & Museum. E-mail condolences may be sent by visiting www.lewisfuneralhomeinc.com The Donald E. Lewis Funeral Home, Inc. has been entrusted with funeral arrangements.