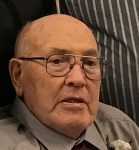 Stewart R. VanOrd, 83, of Russell, PA., died peacefully Sunday morning, March 18, 2018 at the Rouse Warren County Home, Youngsville, PA., after an illness of the past year. He was born July 27, 1934 in Akeley, PA. He was the son of Lewis and Eleanor Mae Wilbur VanOrd, Jr. Stewart was a Warren County area resident his entire life and a 1952 graduate of the former Sugar Grove High School. He had served with the United States Army. He was employed with the former Struthers Wells Corporation for 30 years and retired from Cummins, Inc., of Jamestown, N.Y. after 10 years employment. He was a former member of the Lander United Methodist Church, a charter member of the Hill Top Spinners and member of Antique Tractors Club.
He was an avid hunter, fisherman and traveled extensively to foreign countries and numerous states in the United States.
Stewart is survived by his wife of 60 years, Kay B. Hutchens VanOrd whom he married April 27, 1957 in Warren, PA., 3 Children – Mark VanOrd and wife, Suzanne of Russell, PA., Raymond VanOrd and wife, Lori of Clarendon, PA., Cindy Scheid and husband, Eric of Warren, PA., 2 Brothers – Howard VanOrd and wife, Betty of Russell, PA., Ronald VanOrd and wife, Jan of Westfield, N.Y., 2 Sisters – Virginia Kiffer of Endeavor, PA., Cora Walter and husband, Frank of Vestal, N.Y., 5 Grandchildren – Adam VanOrd (Mollie), Jaron VanOrd (Ally), Ben VanOrd (Shiella), Cassie VanOrd (Jake Barton), Joel VanOrd (Alicia Vavala), 3 Great Grandchildren – Jacob, Gunnar and Isla VanOrd, his mother-in-law, Violette McAmbley, several nieces and nephews. In addition to his parents, he was preceded in death by an infant brother, Clair Allen VanOrd, 1 Brother – Lewis G. VanOrd and wife, Helen, brother-in-law, Vane Kiffer, sister-in-law, Sylvia VanOrd.
Friends may call at the Donald E. Lewis Funeral Home, Inc., 304 East Street, Warren, PA., on Saturday, April 7, 2018 from 2 to 4:00 P.M. followed by a memorial service with Rev. Marcus Briggs, Chaplain of the Rouse Warren County Home, officiating. Interment will be in Oakland Cemetery. Those wishing to place memorials may do so through a charity of one's choice. E-mail condolences may be sent by visiting www.lewisfuneralhomeinc.com