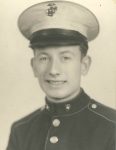 Stanley V. Zorich, 94, of Warren, PA, passed away at his home on Thursday, February 14, 2019 after a lengthy illness.
Born on September 14, 1924 in Burk, West Virginia, he was the son of the late Edward and Josephine Serbot Zorich. On June 14, 1952 in Rural Valley, PA, he married E. Faynell Webb, who survives. Stanley was a resident of Warren, PA since September of 2001 and was formerly employed with PPG Industries. He was a veteran of World War II having served with the U.S. Marine Corps. He was a member of Emmanuel United Church of Christ in Warren, PA, and Salem United Church of Christ of Rural Valley, PA, and was also a member of American Legion Post 135. Stanley enjoyed being outdoors, especially fishing and hunting.
In addition to his wife, Stanley is survived by his two children – Susan Fay Trimble and her husband, Patrick, of Lititz, PA, and Ronald Stanley Zorich and his wife, Voula, of Warren, PA; 3 grandchildren – Clint (Rachel) Schlosser, Jim (Alli) Zorich, and Ashely (Jude) Harter; 2 step-grandchildren – Zac and Kelsey Trimble; 2 great-grandchildren – Dean and Winn; and several nieces and nephews. In addition to his parents, Stanley was preceded in death by a sister – Ann Hodak.
Friends may call at the Donald E. Lewis Funeral Home, Inc., 304 East St., Warren, PA, on Sunday, February 17, 2019, from 2pm to 4pm at which time funeral and committal services will be held with Rev. Madeline S. Edwards, Pastor of Emmanuel United Church of Christ, officiating. Interment will be in Salem United Church of Christ Cemetery, Rural Valley, PA. Those wishing to place a memorial may do so to Emmanuel United Church of Christ, 1710 Pennsylvania Ave. East, Warren, PA, 16365.E-mail condolences may be sent by visiting www.lewisfuneralhomeinc.com