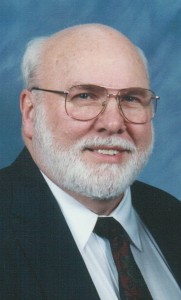 Samuel B. Reed, III, 76, of Warren, PA. died Wednesday morning, December 7, 2011 at Warren Manor Nursing Home surrounded by his family after an extended illness. He was born February 24, 1935 to the late Samuel B. and Charlotte Kerr Reed, III in Clairton, PA. He has resided in Warren for the past 48 years and was formerly of Pittsburgh, PA. He was a 1953 graduate of Clairton High School and earned a Bachelor's Degree in Chemistry and Biology from the Washington Jefferson College.
He also did graduate work at the University of Pittsburgh. He was employed with Warren General Hospital for 33 years as the Director of the Laboratory retiring from there in 1996. Sam was a member of Grace United Methodist Church where he served on numerous committees. He was a 32nd degree mason with the North Star Masonic Lodge #241. He had served on the board of directors of the NFG #2 Credit Union and the Warren Unit of American Cancer Society and Warren Chapter of the American Heart Association. He was a member of the Alpha Kappa Fraternity. Loved to garden and playing Santa at numerous churches and schools.
He is survived by his wife of 51 years, Agnes "Aggie" Betz Reed whom he married August 6, 1960 in Clairton, PA., 3 Children – S. Brice Reed IV of Warren, PA., Lori A. Reed Toth of Milltown, N.J., Debra L. Reed Swanson and husband, Craig of Russell, PA., 1 Brother – William Reed and wife, Martha of Bruin, PA., 1 Sister – Emma McIntosh of Virginia Beach, VA., 3 Grandchildren – K. Bailey Reed, Paul and Shannon Toth, several nieces and nephews.
In addition to his parents, he was preceded in death by 1 Sister – Britta Cameron. Friends may call at the Donald E. Lewis Funeral Home, Inc., 304 East Street, Warren, PA. on Friday from 2 to 4 and 6 to 8 P.M. where members of the North Star Lodge will conduct their funeral ritual at 6:00 P.M. A funeral and committal service will be at the funeral home Friday evening at 8:00 P.M. with Rev. Marcus Briggs, Chaplain of the Warren General Hospital, officiating. Those wishing to place memorials may do so through the Warren Manor Patient Activity Fund, 682 Pleasant Drive, Warren, PA. 16365. Those wishing to place e-mail condolences may do so by visiting wwwlewisfuneralhomeinc.com.