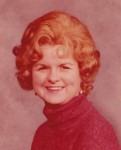 Sally L. Boughton, 78, of Warren, PA, died Monday, March 28, 2016 at Warren Manor.
Sally was born on June 1, 1937 in Pittsburgh, PA and was the daughter of the late Alan Frederick and Sarah Lou Marsh Clark. On January 24, 1981 Sally married Virgil L. Boughton at the home of his parents, Harry and Bertha Boughton, in Weldbank, PA.
Sally was a member of the Warren Congregation of the Kingdom Hall of Jehovah's Witnesses. She worked for many years at the Youngsville Senior Center.
In addition to her husband, Sally is survived by a daughter, Debbie Talbert of Los Angeles, CA and her five children, and also two sisters, Mary Martha Clark living in Massachusetts and Genny Clark in Pittsburgh, PA.
Friends may call from 2-4pm and 6-8pm Friday, April 1, 2016 at the Donald E. Lewis Funeral Home, Inc., 304 East Street, Warren, PA. A service will be held at a later date and will be announced. Those wishing to place a memorial may do so through the Warren Congregation of Jehovah's Witnesses, 201 Pleasant Drive, Warren, PA 16365. E-mail condolences may be sent by visiting www.lewisfuneralhomeinc.com