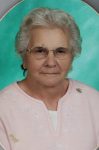 Ruth F. Abplanalp, 92, of Warren, PA., died Sunday afternoon,
March 11, 2018 at her residence, after suffering an apparent heart
attack. She was born October 25, 1925 in Stoneham, PA., to the
late Michael and Margaret Moore Luchs. Ruth was a lifelong
Warren area resident. She worked with her husband and boys on
the family dairy farm and delivered milk to local people with her
husband. Ruth was a member of First Lutheran Church, Warren
Eagles Ladies Auxiliary and Lakewood Rod & Gun Club Ladies
Auxiliary. She was an avid walker, shopper, enjoyed traveling
and spending time with her family, especially her grandchildren.
She is survived by her 4 Children – Edward Abplanalp and wife,
Bonnie, Judy Donaldson and husband, Larry, Michael Abplanalp,
Bruce Abplanalp all of Warren, PA., 17 Grandchildren, several
great grandchildren and several nieces and nephews. In addition
to her parents, she was preceded in death by her son, Tom A.
Lucks, 3 Sisters – Ida Gebhardt, Marie Stanko, Catherine Kane, 2
Brothers – Andrew and Fred Lucks.
Friends may call at the Donald E. Lewis Funeral Home, Inc., 304
East Street, Warren, PA., on Thursday, March 15, 2018 from 5 to 8
P.M. A funeral service will be conducted there Friday, March 16,
2018 at 11:30 A.M. with Rev. Jeffrey Ewing, Pastor, officiating.
Interment will be in Warren County Memorial Park. Those
wishing to place memorials may do so through American
Diabetes Association, 2 Chatham Center, Suite 1520, 112
Washington Place, Pittsburgh, PA., 15219 or Hospice of Warren
County, 1 Main St., Warren, PA. 16365. E-mail condolences may
be made by visiting www.lewisfuneralhomeinc.com