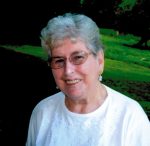 Rose Beck Wolfe, born April 9, 1921 on Lanning Hill road in
Lander, PA., to the late Warner and Sophronia Jones Beck, passed
on Tuesday morning, March 6, 2018 after a brief illness at the John
and Orpha Blair Hospice Home, Warren, PA.
After graduating from Lander High School in 1939, she was
employed at Warren State Hospital, where she met and married
in 1942 her husband of 69 years, Mark Wolfe.
She was also employed at New Process Company in the 1950's
and then G.T.E. Sylvania for 15 years, retiring in 1978. Rose
enjoyed golfing for many years, and shopping with her sister,
Margaret Anderson Janson. She and Mark wintered in Florida for
over 30 years. Rose's greatest joy was her family.
She is survived by her three children, Sherry Vilello (Chip) of
Williamsport, PA., Bob Wolfe (Carol) of Russell, PA., Nancy
Williams of Erie, PA., stepsister – Janis Bauer (Harold) of Gerry,
N.Y., 3 Grandchildren – Brenda Glaser (Jay) of Graham, N. C.,
Jason Cameron (Lisa) of Summerville, S.C., Pamala Principie of
Pawleys Island, S.C., 2 Great Grandchildren – Tanner Mitchell of
Boone, N.C., Mackenzie Mitchell of Pawleys Island, S.C., and
many nieces, nephews and cousins. In addition to her parents,
she was preceded in death by her husband, Mark Wolfe, 2
Brothers – infant brother Russell and brother, Gerald Beck, and
her sister – Margaret Anderson Janson.
There will be a celebration of Rose Wolfe's life on Saturday, May
26, 2018 at 2:00 P.M. at the corner of Valentine Run Road and
Peterson Hollow Road, Russell, PA. Those wishing to place
memorials may do so through Hospice of Warren County, 1 Main
Avenue, Warren, PA, 16365, or a charity of one's choice. The
Donald E. Lewis Funeral Home, Inc. has been entrusted with
funeral arrangements. Those wishing to submit e-mail
condolences may do so by visiting