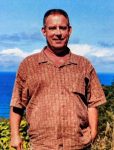 Rod Polley, 61, of Lebanon, PA., and formerly of Warren, PA.,
died Sunday, May 6, 2018 at his residence. He was born August
17, 1956. Rod was the son of Beverly Stites Polley of Warren, PA.,
and the late John Polley. He was a resident of Lebanon, PA., for
the past 5 years and was formerly of Russell, PA. Rod graduated
in 1974 from Warren Area High School. He was owner and
operator of RL Polley Contractor. He formerly worked with
Mahan Motors, Keystone Subaru and Warren Concrete. He was
an Eagle Scout with the Boy Scouts of America, served as a
lifeguard at Camp Cornplanter, was an Indian Dancer for the
Order of the Arrow. Rod enjoyed riding motorcycles, boating,
camping, kayaking, canoeing, and hunting. He is remembered
for his great love and support of his family, especially his mother,
children and grandchildren.
In addition to his mother, he is survived by 2 Children – Tracy
Polley Ward and husband, Scott of Beaver, PA., Randy L. Polley
and wife, Christy of Warren, PA., 1 Sister – Dorothy M. Bero and
husband, Mike of Warren, PA., 1 Brother – Ed Polley of Sheffield,
PA., 5 Grandchildren – Preston and Carley Ward, Adrianna,
Austin and Brian Polley, several nieces and nephews. In addition
to his father, he was preceded in death by his wife, Dr. Jan Turner
Polley whom he married April of 2012, 1 Brother – Pete Polley, 1
Sister – Cinthia Polley Shine.
Friends may call at the Donald E. Lewis Funeral Home, Inc., 304
East Street, Warren, PA., on Wednesday, May 9, 2018 from 2 to 4
P.M., a Memorial Service will be conducted at 4:00 P.M. with Rev.
Marcus Briggs, Chaplain of the Rouse Warren County Home,
officiating. Interment will be in Warren County Memorial Park.
Those wishing to place memorials may do so through Boy Scouts
of America, earmarked for any Eagle Scouts Projects, 316 Fourth
Avenue, Warren, PA., 16365. E-mail condolences may be sent by
visiting www.lewisfuneralhomeinc.com