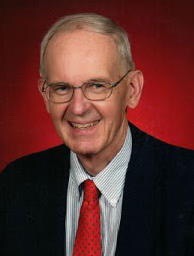 Robert William Koebley, 81, of 5850 Meridian Road, St. Barnabas, Gibsonia, PA, and formerly of Warren, PA, passed away peacefully Wednesday, August 16, 2017.
He was born May 14, 1936 in Warren, PA, to the late Esmond William and Frances Swanson Koebley. He was a graduate of Warren Area High School and Grove City College. Bob was a member of First United Methodist Church in Warren for over 50 years and the First United Presbyterian Church in Bakerstown, PA. He was an Eagle Scout for the Boy Scouts of America.
Bob is survived by his wife, Barbara Lowe of Coraopolis, whom he married on September 6, 1958, two sons, Scott Robert Koebley and his wife Sarah of Hudson, Ohio; Keith William Koebley and his wife Christine of Wexford, PA; five grandchildren, Sean, Sam, Shelby, Anna and Nick Koebley, and several nieces and nephews. Bob's kind and generous spirit will be truly missed by all.
Bob worked for Coates, Way & Anderson as a public accountant, U.S. Steel, H. J. Heinz, GTE Sylvania for 25 years as Controller, Operations Manager & Controller for Rexnord, Analyst for United Refining Company and Administrator for The Crary Home in Warren.
Friends may call at the First United Methodist Church, 200 Market Street, Warren, PA, on Monday, August 21, 2017, from 12 noon to 2 pm at which time a memorial service will be conducted with Rev. Dr. Mark E. Hecht, Senior Pastor, officiating. Burial will be in the Memorial Garden at the church. Following the service please join the family for a luncheon at the church to gather and continue to share memories of Bob. Those wishing to place memorials or make donations in lieu of flowers may do so at the First United Methodist Church, 200 Market Street, Warren, PA, 16365, or at the First Presbyterian Church at Bakerstown Road, Bakerstown, PA, 15007. Arrangements have been entrusted to the Donald E. Lewis Funeral Home, Inc., 304 East Street, Warren, PA. Email condolences may be sent by visiting www.lewisfuneralhomeinc.com