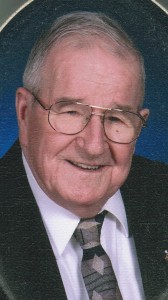 Robert E. Cunningham, 84, of Warren PA died suddenly Monday morning, January 30, 2012 at his residence. He was born December 12, 1927 in Warren to the late George W and Florence M. Severin Cunningham, Sr. A 1946 graduate of Warren High School, Bob was a Warren resident most of his life. He had served in the U.S. Air Force piloting transport aircraft as a Major during the Korean War and was a reserve for the Air Force for 14 ½ years. He earned a Bachelor's in Mechanical Engineering from the University of Detroit and was an engineer with Dresser Corp. of Bradford and Olean NY for 14 ½ years. Bob had also resided in Corning and Rochester NY. He was a member of St. Joseph R.C. Church, Warren Knights of Columbus, American Legion, Eagles, Moose, Sugar Grove AMVETs, Lakewood Rod and Gun Club. He was a NASCAR enthusiast, collected model cars and supported the Buffalo Bills.
He is survived by his wife, Jacquelyn "Jackie" Smith Cunningham, whom he married October 21, 1950 in Warren; 2 sons – Dennis Cunningham and his wife, Gloria of Thomaston, ME, and Brian Cunningham and his wife Joyce of Horsehead, NY; a brother – George W. Cunningham, Jr or Warren; 3 grandchildren; 3 great grandchildren; two step grandchildren; two step great grandchildren; and several nieces and nephews.
In addition to his parents, he was preceded in death by one son – Robert Michael Cunningham; one daughter – Colleen Ann Cunningham, who died Friday, January 27, 2012; two grandsons – Brandon and Sean Cunningham; and a sister – Mary Patricia Rimer.
A funeral service will be conducted 2:00 pm Sunday, February 5, 2012 in the Donald E. Lewis Funeral Home, Inc. 304 East St, Warren Pa. 16365 with Fr. Michael Polinek, Parochial Vicar of St. Joseph R.C.Church, officiating. Interment will be in St. Joseph R.C. Cemetery. Those wishing to place memorials may do so through St. Joseph Church Educational Center Fund, 600 Pennsylvania Ave West, Warren 16365 or Russell Volunteer Fire Department, 111 Perrigo Ln, Russell PA 16345. Online condolences may be offered at www.lewisfuneralhomeinc.com