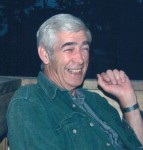 Rick S. Shama-Feeny, 71, of Russell, PA. died Sunday afternoon,
May 17, 2015 at his residence after an extended illness. He was
born in Santa Barbara, CA. Rick was a lifelong resident of Russell,
PA. He had served with the U.S. Navy during the Vietnam War
and Cuban Blockade. He was employed with CAE Ultrasonics of
Jamestown, N.Y. retiring from there after 8 years employment.
He had previously owned and operated for 20 years, Pet World of
Russell, PA. He drove an escort vehicle for wide load hauling
truck drivers. He was a former Captain of the Russell Volunteer
Fire Dept. Fire Police and a member of 55 years with the Russell
Volunteer Fire Department. Rick was a member of the Russell
United Methodist Church, Pine Grove Lions Club, Pine Grove
Sportsman's Club where he was former President. Member of
Sugar Grove AMVETS. He was an avid hunter, fisherman, motor
cyclist. Rick is survived by his wife of 40 years, Linda A.
Murdock Feeny whom he married July 6, 1974 in Jamestown,
N.Y., 3 Sons – R. Sam Feeny, III, Vince P. Feeny and wife,
Marlene, Aaron C. Feeny and wife, Lisa all of Warren, PA., 2
Sisters – Heather Chartier and husband, Chris of Haymarket, VA.,
Linda Denning and husband, Quinn of Ivins, UT., 1 Brother – Ed
Shama and wife, Marcy of Eagle River, Alaska, 2 Grandsons –
Hunter and Kohl Feeny. Several nieces and nephews.
He was preceded in death by his parents, Harold Shama and
Margaret A. Phares Feeny and Carlyle Feeny.
Friends may call at the Donald E. Lewis Funeral Home, Inc., 304
East Street, Warren, PA. Tuesday, May 19, 2015 from 4 to 7 P.M.
and on Wednesday, May 20, 2015 at Russell United Methodist
Church from 10:00 to 11:00 A.M. A funeral service will be
conducted there at 11:00 A.M. Wednesday by Rev. David
Heckman, Pastor, officiating. Full military honors will be
conducted at Pine Grove Cemetery by members of the John
Gertsch Vietnam Memorial Post and members of the U.S. Navy
funeral detail. In lieu of flowers, family suggests memorial
contributions may be made through Hospice of Warren County, 1
Main Street, Warren, PA. 16365 or Russell Volunteer Fire
Department Fire Police, 111 Perrigo Lane, Russell, PA. 16345 or
Pine Grove Lions Club, P.O. Box 488, Russell, PA. 16345. E-mail
condolences may be sent by visiting