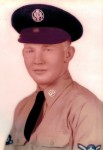 Richard T. Gage, 81, of Russell, PA. died Friday, May 2, 2014 at
the Pennsylvania Soldiers and Sailors Home, Erie, PA. He was
born February 13, 1933 in Russell, PA. to the late Walter S. and
Agnes Lewis Gage. Richard was a lifelong resident of Russell and
Akeley, PA. He had served with the U.S. Airforce as a Sergeant,
serving from February 4, 1953 to February 3, 1957. He had owned
and operated the former Akeley Garage for 35 years. He enjoyed
hunting and especially his horses.
He is survived by his 4 children – Debra Gage O'Connor and
husband, James of Corry, PA., Robin Walker and husband, Larry
of North Carolina, R. Michael Gage and wife, Connie of Russell,
PA., Daniel Gage and wife, Toni of Frewsburg, N.Y., 1 Sister –
Dorothy Knapp and husband, Tom of Sugar Grove, PA., several
grandchildren, and great grandchildren, several nieces, nephews
and cousins also survive. In addition to his parents, he was
preceded in death by 2 Daughters – Terrie Chew, Michelle Renee
Gage, 1 Brother – Lewis H. Gage. A graveside service will be
conducted at Pine Grove Cemetery at a later date and time to be
announced. Full military honors will be bestowed by members of
the Clarendon/Sheffield V.F.W. and the U.S. Airforce. The family
suggests memorial contributions may be made through
Alzheimer's Foundation or the Warren Cancer Center, 2 Crescent
Park, Warren, PA. 16365. E-mail condolences may be sent by
visiting www.lewisfuneralhomeinc.com The Donald E. Lewis
Funeral Home, Inc. has been entrusted with funeral
arrangements.