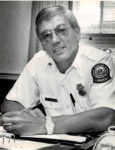 Richard L. Poorman, 71, of Warren, PA., died Friday, July 1, 2016 at U.P.M.C. Presbyterian Hospital, Pittsburgh, PA., after a one month illness. He was born April 27, 1945 in Lock Haven, PA.
He was the son of John and Leah Mae McHenry Poorman.
Rick was a Warren area resident most of his entire life and was a 1963 graduate of Warren High School. On October 21, 1964, Rick entered the U.S. Army where he served as a Military Policeman, earning a National Defense Service Medal, was a Marksman in Pistols and an Expert riflemen with the M-14 and Carbine Rifles.
He attended the Pennsylvania State Police Academy which was located in Greensburg, PA. Rick was employed for 40 years with the City of Warren Police Department, retiring from there after serving as Chief of Police for 14 years.
He is survived by his wife of 49 years, Sally A. Miller Poorman whom he married August 2, 1966 in Maryland.
2 Children – Stephanie Reagle and husband, Kevin of Warren, PA., Steve Poorman and wife, Jennifer of West Grove, PA.
5 Grandchildren – Bailey Poorman, Erick Schafer, Derek Reagle, Morgan Poorman, Emilee Schafer, several nieces and nephews.
In addition to his parents, he was preceded in death by 2 Brothers – Gerald and David Poorman, 1 Grandson – Evan Schafer.
Friends may call at the Donald E. Lewis Funeral Home, Inc., 304 East Street, Warren, PA., on Thursday, July 7, 2016 from 1 to 3 P.M. and 6 to 8 P.M. A funeral service will be conducted Friday, July 8, 2016 at 11:00 A.M. at the Warren State Hospital Interfaith Chapel with Rev. Marcus Briggs, Chaplain of the Warren General Hospital, officiating. Interment will be in Warren County Memorial Park. The Warren Fraternal Order of Police will conduct their funeral ritual and Full military honors will be conducted by members of the Clarendon/Sheffield V.F.W. Funeral Honor Guard and members of the U.S. Army. Those wishing to place memorials may do so through Fraternal Order of Police, %City of Warren Police Department, 318 W. Third Avenue, Warren, PA. 16365. E-mail condolences may be sent by visiting www.lewisfuneralhomeinc.com