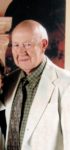 Richard W. "Dick" Olney, 88, of Warren, PA., died Sunday, June 26, 2016 at his residence after a brief illness. He was born September 27, 1927 in Warren, PA. Dick was the son of William H. and Lucille Weir Olney.
He resided most of his life in Warren and was a 1945 graduate of Warren High School, he attended Penn State University completing several continuing education courses in accounting and taxation. He was raised and born into raising dairy cows and sheep farming. Dick was formerly employed at the former Warren Bank & Trust Company and previously employed with State of Pennsylvania Department of Labor for 21 years. He was owner and operator of R.W. Olney & Associates for 30 years and was a active member of Grace United Methodist Church, where he cherished his strong faith and love of God. He had held a Student Pilots License, and especially enjoyed flying with his licensed piloted wife. He enjoyed traveling, his favorite times in life were the times spent with his family. He enjoyed spending quality time with his Amish friends. He had served with the U.S. Army, 2nd infantry division as a Master Sergeant and served with the U.S. Army Reserves as a Chief Warrant Officer. He earned the Korean Service Medal with two bronze stars, the National Defense Service Medal, United Nations Service Medal and a commendation ribbon with metal pendant. He was very active with the Warren County Fair and served on the board of directors for several years.
He is survived by his wife of 67 years, Elaine Gibson Olney, whom he married November 25, 1948 in Warren, PA. 2 Children – David Olney and wife, Joy, Sue Toombs and husband, Raymond all of Warren, PA., 1 Sister – Marjorie Erickson of Saskatoon Saskatchewan, Canada, 2 Step grandchildren – Alyce Busch and husband, Randy and Rhiannon Toombs, 2 Step Great Grandsons, Ezra and Gabriel Busch all of Tionesta, PA., several nieces, nephews, cousins and very special friends, the Jung Shin Yeop Family of Seoul, Korea.
Family will receive friends at Grace United Methodist Church, 501 Pennsylvania Avenue East, Warren, PA., on Thursday, June 30, 2016 from 10:00 A.M. until 11:00 A.M. when a memorial service will be conducted with Rev. Rich Pearson, Pastor, officiating. Interment will be in Scandia Cemetery. Those wishing to place memorials may do so through a charity of one's choice. Those wishing to submit e-mail condolences may do so by visiting www.lewisfuneralhomeinc.com The Donald E. Lewis Funeral Home, Inc. has been entrusted with funeral arrangements.