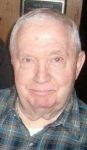 Richard A. Cook, 84, of N. Warren, PA., died Wednesday afternoon, February 8, 2017 after a brief illness. He was born July 17, 1932 in Rogertown, Warren Co., PA., to the late Van H. and Wilma D. Irwin Cook. He was a 1951 graduate of Warren High School and had served with the U.S. Navy during the Korean War. Richard was a longtime Warren area resident and was former co-owner with his father in Simones and Cook, Inc. for 19 years. He was also employed with the former PennBank and Integra Bank as maintenance supervisor retiring from there in July of 1994 after 12 years employment.
He was a life member of the former Warren V.F.W.
Richard enjoyed local dirt track racing, NASCAR, and his grandpups. He dearly loved and missed his wife, loved his children and grandchildren.
He is survived by his 2 children – Karin L. Cook of N. Warren, PA., Richard A. Cook, Jr. and wife, Barbara of Warren, PA.,
1 Sister – Marion Klakamp of South Carolina, 3 Granddaughters – Amber Orcutt, Mayan Cook, Katie Labarr, 4 Great Grandchildren, several nieces and nephews.
In addition to his parents, he was preceded in death by his wife of 62 years, Barbara J. Reist Cook who died June 28, 2016 whom he married October 19, 1953 in Warren, PA., 2 Brothers – Wayne V and Ronald E. Cook.
A private funeral service will be conducted at the convenience of the family at the Donald E. Lewis Funeral Home, Inc., 304 East Street, Warren, PA., with Rev. Marcus Briggs, Chaplain of the Warren General Hospital, officiating. Interment will be in Pine Grove Cemetery, Russell, PA. Those wishing to place memorials may do so through Cystic Fibrosis Foundation, Western New York Chapter, 1775 Wehrle Drive, Suite 150, Ashville, N.Y. 14221, or the Warren Cancer Center, 2 Crescent Park, Warren, PA, 16365, or to Disabled American Veterans, P.O. Box 14301, Cincinnati, OH 45250-0301. E-mail condolences may be sent by visiting www.lewisfuneralhomeinc.com