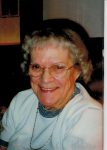 Rhea Mercier Waples, 98, a resident of the Watson Memorial
Home, Warren, PA., died peacefully at her residence on Sunday
afternoon, November 5, 2017, after a brief illness.
She was born December 8, 1918 in Warren, PA., and was the
daughter of Homer J. and Domecia (Minnie) Williams Mercier.
Rhea was a lifelong Warren area resident and a 1936 graduate of
Warren High School. She was a member of Holy Redeemer
Church. She was an avid knitter and good cook.
Rhea is survived by her 2 daughters – Joan Michele Rantanen of
Boston, Mass., and Patricia Bratz of Warren, PA., 2 grandchildren
– Melissa Corbin and August Bratz, 4 great grandchildren.
In addition to her parents, she was preceded in death by her
foster parents, Leonard W. and Minnie Davis, her husband, John
G. Waples whom she married at Holy Redeemer Church, Warren,
PA., on January 29, 1944, who died October 16, 1985, 1 Grandson
– John Paul Bratz.
Friends will be received Monday, November 13, 2017 at St. Joseph
R.C. Church, 600 Pennsylvania Avenue West, Warren, PA., from
10:00 A.M. until 11:00 A.M., followed by a Mass of Christian
Burial with Fr. James Gutting, Pastor of Holy Redeemer Church,
officiating. Entombment will be in the Mausoleum of the
Resurrection in St. Joseph R.C. Cemetery. Those wishing to place
memorials may do so through Watson Memorial Home, 1200
Conewango Avenue, Warren, PA., 16365 or New Hope
Assistance Dogs, 3 Scott Run Road, Warren, PA., 16365. E-mail
condolences may be sent by visiting
www.lewisfuneralhomeinc.com The Donald E. Lewis Funeral
Home, Inc. has been entrusted with funeral arrangements.