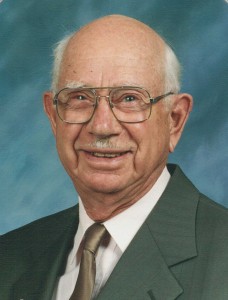 Raymond F. Gilman, 94, of Kissimmee, FL, formerly of Warren, PA, died Thursday morning, November 3, 2011. Born May, 9, 1917 in Jamestown, NY to the late Raymond B. and Kathleen Gilman, Ray resided in the Warren area most of his life. He served as a Private First Class in the US Army during WWII. He was employed with the former Blair Corporation for 41 years until his retirement in 1981. Ray was member of the North Warren Presbyterian Church, where he also dedicated time towards landscaping and gardening. He was a member of the Warren Eagles Club, a former member of the Lakewood Rod and Gun Club and was a passionate hunter. Ray devoted much of his time to others. He volunteered for the Warren Unit of the American Cancer Society to escort those in need of treatment to facilities at distances otherwise unattainable. In 2004 Ray moved to Kissimmee where he volunteered every Friday for Bingo, helped with the "Give the Kids the World Organization" and offered assistance at the local thrift shop – even on the morning of his death. His love and support for the Warren County Fair could not be separated by distance; he made special trips to the fair from Florida where he was a judge for the fruits and vegetables.
He is survived by his son, Gerald E Gilman and his wife, Sandy of Russell, PA; a daughter, Glenell Lauffenburger and her husband, Jim of Russell; his companion of 11 years, Rita Joy of Kissimmee, Five grandchildren and six great grandchildren.
In addition to his parents, he is preceded in death by his first wife, Chloe Heasley Gilman in August of 1969 and his second wife, Helen Day Gilman, in August of 1993; his step-daughter, Ronalie Bell; and his infant son.
Friends may call the Donald E. Lewis Funeral Home, Inc. 304 East St. Warren on Monday, November 7, 2011 from 2 to 4 pm and 6 to 8 pm. A funeral service will be conducted at 1 pm at the funeral home, Tuesday, November 8, 2011, with Rev. Burfoot "Buddy" Ward, Pastor of North Warren Presbyterian Church, officiating. Interment will follow at Warren County Memorial Park. Those wishing to place memorials may do so through the Warren Unit of the American Cancer Society, 2 Crescent Park, Warren PA 16365, Give the Kids the World Organization, 210 South Bass Rd, Kissimmee FL 34746 and the North Warren Presbyterian Church, 200 South State St, Warren PA 16365. Condolences may be offered online at www.lewisfuneralhomeinc.com