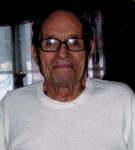 Ralph Suppa, Sr., 94, went to be with the Lord on October 13, 2017, due to a stroke on January 5, 2012, surrounded by his wife, daughter Mary Rutsky and her husband, Dan.
Born on June 25, 1923 in Irvine, PA, Ralph was the 9th child of Frank and Victoria Randinelli Suppa. Ralph was fondly known as "Uncle Ralph" to many. Ralph and his brother, John Suppa, ran J & R Exxon for many years. Ralph was a self-employed farmer in Irvine and Sugar Grove, PA and milked 20 cows for many years. He worked at National Forge, Interstate Amisite, and later for Betts Lamp Division in Starbrick, where he retired on October 30, 2007. Ralph was also a school bus contractor for the Warren County School district for 48 years. He was a hard worker and he played hard. He was a member of the American Legion, Warren Moose Lodge and a life member of Struthers Hose. Ralph and Bonita lived in Irvine on River Valley Road all their married life, until they moved to Youngsville in 2015. Ralph had been a resident of The Rouse Home since June 5, 2016. The family would like to thank everyone who took care of him, especially to the special caregivers Peggy, Crissie, Brenda, Sandy and to all the caregivers who took care of him in their home since 2012.
Ralph is survived by his wife, Bonita Kay (Bartsch) Suppa, whom he married on November 21, 1980 at the Interfaith Chapel in North Warren, PA; 1 sons – Ralph Suppa, Jr. and his wife, Becky, of Russell, PA; 3 daughters – Mary Anne Rutsky and her husband, Dan, of Sugar Grove, PA, Angela Lawton of Erie, PA, and Janie Suzanne Suppa of Lewisville, NC; 4 granddaughters – Lacy, Holly, Darby and Audry; 1 grandson – Luke (Lacey) Rutsky; 4 great-granddaughters and 1 great-grandson: 3 stepchildren – Paul Bobelak of Warren, PA, Cheryl (John) Schalk of Sun City, AZ, and Kim (Dave) Smith of Erie, PA; 7 step-grandchildren; and many cousins, uncles, and aunts. In addition to his parents, Ralph was preceded in death by his brothers James, John, Frank, Dominic, and Joe Suppa; and sisters – Elizabeth LeTrent, Isabelle Lucia and Rose Work.
Friends may call from 6pm – 8pm Tuesday, October 17, 2017, at the Donald E. Lewis Funeral Home, Inc., 304 East Street, Warren, PA. A Mass of Christian Burial will be conducted at 11:00 A.M.am Wednesday at St. Joseph R.C. Church, 600 Pennsylvania Avenue West, Warren, PA, with Fr. Richard Tomasone, Pastor, officiating. Interment will be in St. Joseph R.C. Cemetery. Those wishing to place a memorial may do so through Hospice of Warren County, 1 Main Avenue, Warren, PA, 16365. E-mail condolences may be sent by visiting www.lewisfuneralhomeinc.com