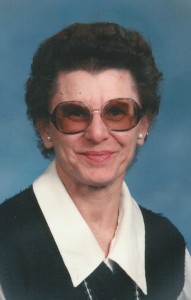 Rachel White McElhattan, 78, of Warren, Pa died Tuesday morning, January 03, 2012 in her residence following a three year illness. Born February 22, 1933 in Starbrick, Pa to the late Benjamin C. and Evelyn Mae Edgett White, she was a 1951 graduate of Warren High School. She resided in Warren her entire life. Rachel had been employed with First Affiliated Securities as a secretary. She was a regular pioneer with Kingdom Hall of Jehovah's Witnesses since 1983.
Rachel is survived by her three sons – John B. McElhattan and his wife, Helen of Hacienda Heights, Ca, James R. McElhattan of Long Island, NY and Charles L McElhattan and his wife, Jamie of Prescott, Az; Two daughters – Judy Ann Anderson and her husband, Danny of Unicoi, Tn. and Carolyn Stroup and her husband, Vaughn of Rockwood, Tn; A brother – Tom White and his wife, Nancy of Starbrick; 12 grandchildren; 3 step grandchildren; 8 great grandchildren; 2 step great grandchildren and several nieces and nephews.
In addition to her parents, she was preceded in death by her husband, Paul R. McElhattan in 1982, whom she married June 14, 1952 in Warren; One son – Richard P. McElhattan, in 1996; one grand daughter – Karissa McElhattan; one brother – Bill White; and a sister – Gretchen McDaniel.
Friends may call Donald E. Lewis Funeral Home, Inc. 304 East St, Warren 16365 on Friday from 2 to 4 and 6 to 8 pm. A memorial service will be conducted 11:00 am Saturday at Kingdom Hall of Jehovah's Witnesses, 201 Pleasant Dr. Warren, 16365 with a local elder officiating. Private interment will follow in Warren County Memorial Park. Those wishing to place memorials may do so through Kingdom Hall of Jehovah's Witness, 201 Pleasant Dr. Warren 16365. Online condolences may be offered to the family at www.lewisfuneralhomeinc.com.