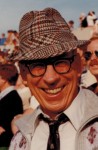 Phillip M. Ittel, 97, of Warren, Pa. died Friday morning, February
27, 2015 at his residence after an extended/brief illness. He was
born July 23, 1917 in Warren, PA. to the late Leon George and
Ruth Octavia Goodwin Ittel. He was a 1935 graduate of Warren
High School and a 1942 graduate of Pennsylvania State
University. He was a veteran of World War II serving in the U.S.
Army with the Pacific Theater, serving in Australia, New Guinea,
Leyte, Mindanao and Japan. Phillip is formerly of Panama City,
Fl, Homerville and Madison, GA., Pas Cagoula, Miss., Pine Bluff
and Camden, Arkansas. He was employed with the former
Warren Veneer and Panel Company, Allegheny National Forest
and the National Forest in Coeur D Alene, Idaho. He retired from
International Paper Company after 36 years service, retiring as
Operations Manager. He had served from August 1987 to June
1998 as Arkansas State Director of AARP's Income Tax Program.
He had also served on the City of Camden Planning Commission
for 4 years. He was a member of the Society of American
Foresters, Southern Forest Institute, American Pulpwood
Association, Arkansas Forestry Association, American Legion, a
former Rotarian and a member of Toastmasters International. He
was a member of Penn State Alumni Association and was a
member of Grace United Methodist Church. He was an avid
golfer, bowler and enjoyed the outdoors and horse racing.
He is survived by 1 Son – Leon George Ittel of Ft. Lauderdale, FL.,
2 Sisters – Verta Ittel and Arvilla Erickson both of Warren, PA.
In addition to his parents, he was preceded in death by his wife,
Mary Ellen Winchester Ittel whom he married October 26, 1946 in
Johnson City, NY who died April 19, 2009.
A funeral and committal service will be conducted at the Donald
E. Lewis Funeral Home, Inc., 304 East Street, Warren, PA.
Tuesday, March 3, 2015 at 1:00 P.M. Rev. Rich Pearson, Pastor,
officiating. Full military honors will follow the funeral service by
members of the Clarendon/Sheffield V.F.W. and U.S. Army
Personnel. Interment will be in Warren County Memorial Park.
Those wishing to place memorials may do so through Grace
United Methodist Church, 501 Pennsylvania Avenue West,
Warren, PA. 16365 or Hospice of Warren County, 1 Main Street,
Warren, PA. 16365 or St. Louis R.C. Church, 202 N. Adams Street,
Camden, Arkansas 71701.
E-mail condolences may be sent by visiting