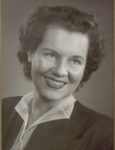 Pauline Rowland Sarvis, 94, a resident of the Rouse Suites in Youngsville, PA, and formerly of Sugar Grove, PA, died Thursday, April 6, 2017, at the John and Orpha Blair Hospice Residence in Warren, PA.
Pauline was born in the village of Lander, PA, on Easter Sunday morning, April 16, 1922, in the home of her parents, Paul Clark Rowland and Bertha Wenzel Rowland. Growing up in Lander, she was a graduate of Lander High School, Class of 1940 and had attended every yearly alumni reunion since she graduated 76 years ago. In 1941 she graduated from the Hoff Business College in Warren, PA, and then was employed in the office of the Struthers Wells Corporation. In later years she was employed by and retired from the Sugar Grove office of Penn Bank.
On April 20, 1946, she married Harry Sarvis in the Lander Methodist Church, where Rev. Grant Mottern officiated. She and Harry had resided in Sugar Grove since 1948. A member of the Sugar Grove United Methodist Church, Pauline was on the Administrative Council, United Methodist Women, and the Care Team. From 1963 to 1970 she served on the Building Committee for the planning and construction of the Education Building, which was completed and dedicated in 1970.
Pauline had been a member of the Daughters of the American Revolution, Jamestown, NY chapter, since June 1961, and the Kanoagoa Chapter of the Daughters of the American Colonists since 1963. She had held elective offices of both Tax Collector and Auditor in Sugar Grove borough.
Pauline loved to travel and she and Harry had enjoyed many bus trips in their retirement. Her hobbies were photography, "Just one more picture," visiting lighthouses, and in particular she always looked forward to traveling with her daughter and friends Gladys and Cindy to the Ashtabula County, OH, Covered Bridge Festival in October.
Pauline was a wonderful wife, mother, grandmother, and friend. Her smile lit up a room, and people naturally gravitated to her because they knew she genuinely cared about them. She was loved by many and will be greatly missed.
Pauline is survived by her daughter, Mavis Campbell, and her husband, Arthur, of Dover, OH; a grandson, Christopher Campbell and his wife, Alla, of Fairfax, VA; a granddaughter, Mary Stevenson and her husband, Dan, of Gnadenhutten, OH; 8 great-grandchildren; 2 sisters – Leah Bacchetti of Lakewood, NY, and Eleanor Johnson of Russell, PA. Four nephews also survive; Robert Bacchetti of Russell, PA; Daniel Johnson of Pittsburgh, PA; Bradley Johnson of Erie, PA; and David Bacchetti of Buffalo, NY; along with several great nieces and nephews. Preceding her in death were her husband, Harry Sarvis, in January 2015; her mother in 1973; her father in 1976; 2 brothers – Howard Emery Rowland in 1971 and Robert William Rowland in 1932; and a great nephew, Kyle Chase Johnson in May 2013. Pauline's family would like to thank the staff of the Rouse Suites for their kind, loving care during her stay there.
Friends are invited to attend a Memorial Service to be held at 11:00 A.M. on Monday, April 10, 2017, at the Sugar Grove United Methodist Church, 3 Race Street, Sugar Grove, PA, with Rev. Sheila Auer, Pastor, officiating. A luncheon will follow the service at the church. Interment will be at the convenience of the family in Pine Grove Cemetery, Russell, PA. In lieu of flowers the family suggests memorial contributions be made to the Sugar Grove United Methodist Church, or to Hospice of Warren County, 1 Main Avenue, Warren, PA, 16365, or to a charity of choice. Arrangements have been entrusted to the Donald E. Lewis Funeral Home, Inc., 304 East Street, Warren, PA. E-mail condolences may be sent by visiting www.lewisfuneralhomeinc.com