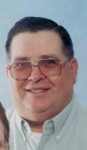 Everett "Paul" George, 70, of Russell, PA. went to be with the Lord, Sunday, January 20, 2013 at 9:45 A.M. at the Warren Manor. He was born September 23, 1942 in Kittanning, PA. and was the first son of the late Everett and Jean George. As a teenager, Paul began work driving truck for his uncle in the coal business until being employed as a welder/maintenance mechanic for Pullman-Standard Railcar Co. in Butler, PA. for 17 years. During this time he also operated an excavating business part time until Pullman-Standard closed in 1982, after which he remained self-employed as an excavation contractor in Indiana, PA until his retirement in 2004. After retiring, Paul moved to Russell, PA. with his wife Dessie, to be closer to his immediate family. He enjoyed spending lots of time with his two daughters and 8 grandchildren. He loved to tinker in his garage and work with his son-in-law on any kind of project but he especially enjoyed preparing scrap and keeping his woodburner going in the winter. He made lots of friends in the neighborhood and always enjoyed a friendly chat and was like by all who met him. He lived his life always willing to help anyone he could.
He is survived by his wife, Dessie Ellen Confer George (Russell) who he was married to for 49 years; a brother, Larry George (Apollo, PA.), and three sisters, Lorna Spencer (Lancaster, PA.), Barb Coy (Homer City, PA.), and Jackie Verner (Elderton, PA.), as well as two daughters – Jeannie (Warren, PA.), and Joann (Russell, PA.), and son-in-law, Brian (Russell, PA.)
A private memorial will be held for the immediate family at the Donald E. Lewis Funeral Home, Inc. at a later date. Memorial contributions may be made in honor of Everett "Paul" George to AseraCare Hospice of Erie, 1600 Peninsula Drive, Erie, PA. 16505.