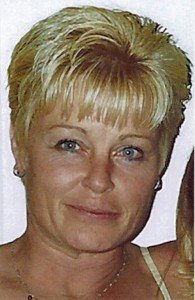 Pamela Thompson Martin, 54, of Warren, PA. died Tuesday evening, July 24, 2012 at Cleveland Clinic, Cleveland, Ohio after a courageous battle with leukemia. She was born September 6, 1957 in Warren, PA. where she was a lifelong resident. Pam was a 1975 graduate of Warren Area High School. She was employed for 15 years with FedEx as a driver and delivery person. She attended Holy Redeemer R.C. Church. Pam enjoyed gardening, boating, water skiing, swimming and entertaining friends and family. She possessed a skill and knack for home interior design, had a great sense of humor to the end, with a fiery attitude, and was a take charge person. Family was her whole world, especially had a passion and love for her two grandchildren.
She is survived by her father, Charles L. Thompson and her stepmother, Lynne of Russell, PA., her husband, Robert G. Martin, Jr. whom she married July 7, 2007 in Warren, PA., 5 Children – Jenna Scotese and Loni Parks and her husband, Matthew all of Cleveland, OH., Erin Thompson and husband, Ben of Syracuse, N.Y., Kelly Martin and Connor Martin both of Buffalo, N.Y. 1 Sister – Margo Paul and husband, David, 1 Brother – Wade C. Thompson and wife, Ann all of Warren, PA. 1 Foster Brother – Gary Truitt of Maiden, N.C. 2 Grandchildren – Vito and Isabella Scotese of Cleveland, OH. Several nieces, nephews and cousins.
She was preceded in death by her mother, Gayle Wade Thompson, 1 Sister – Melissa Ann Thompson, Paternal Grandmother – Cecelia Smith, Maternal Grandparents – Ralph and Eva Wade.
Friends may call at the Donald E. Lewis Funeral Home, Inc., 304 East Street, Warren, PA. Friday, July 27, 2012 from 2 to 4 and 6 to 8 P.M. where a vigil service will be conducted at 7:45 P.M. A Mass of Christian Burial will be conducted Saturday, July 28, 2012 at Holy Redeemer R.C. Church at 10:00 A.M. with Msgr. John Lucas, Pastor, officiating. Interment will be in St. Joseph Cemetery. Those wishing to place memorials may do so through Western Pennsylvania and West Virginia Chapter of the Leukemia and Lymphoma Society, River Walk Corporate Center, 333 East Carson Street, Suite 441, Pittsburgh, PA. 15219. E-mail condolences are being accepted at www.lewisfuneralhomeinc.com