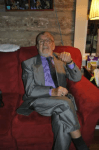 Nicholas Stanko, 92, of Warren, PA, died Saturday morning, July 18, 2015 at the John and Orpha Blair Hospice Home. He was born December 2, 1922 in Sheffield, PA. He was the son of George and Mary Fedjelem Stanko, Sr. Nick was a Warren area resident most of his entire life and was employed for 27 years for the United States Postal office as a mail carrier retiring from there on December 2, 1977. He was a veteran of the U.S. Navy, serving during World War II as a Seaman First Class. He was a member of Holy Redeemer R.C. Church, where he volunteered with the funeral luncheon committee, cleaned the church and was a grounds keeper.
He was a member of the Sheffield V.F.W. and Sheffield American Legion Post, National Association of Letter Carriers, A.A.R.P., Warren Knights of Columbus, Warren Chapter of the Civil Conservation Corp. He was an avid golfer, fisherman and hunter. He is remembered as man of great faith in his God, a great love of his family and his friends.
Nick is survived by his 3 Children – Dennis Michael Stanko and wife, Reba of Kannapolis, N.C., Michelle Elizabeth Stanko-Holcomb and husband, Phillip of Garland, PA., Rebecca Ann Stanko-Peterson and husband, Randy of Cary, N.C., 1 Sister – Mary Kunselman of Rancho Cordova, CA, 10 Grandchildren, 13 Great Grandchildren, several nieces and nephews. In addition to his parents, he was preceded in death by his wife, Barbara J. Bean whom he married July 31, 1948 in Sheffield, PA., 5 Brothers – George Stanko, Jr., John, Andy, Paul and Michael Stanko, 1 Sister – Irene Cowen.
Friends may call at the gathering space of Holy Redeemer R.C. Church 11 Russell Street, Warren, PA., on Friday, July 31, 2015 from 10:00 to 11:00 A.M. when a Mass of Christian Burial will be conducted at 11:00 A.M. with Fr. James Gutting, Pastor, officiating. Interment will be in St. Joseph R.C. Cemetery, where full military honors will be conducted by members of the U.S. Navy and the Sheffield/Clarendon V.F.W. Funeral Detail. The family suggests memorials can be made through Holy Redeemer Church Building Fund or Hospice of Warren County, 1 Main Street, Warren, PA 16365, or the Warren Chapter of the Civil Conservation Corp. E-mail condolences may be sent by visiting www.lewisfuneralhomeinc.com