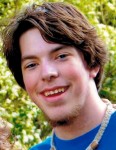 Nate R. Sedon
Nate R. Sedon, 20, of Warren, PA. died as the result of a one car motor vehicle accident on Preston Hill Road, Warren, PA. on Wednesday, October 10, 2012. He was born July 31, 1992 in Warren, PA. He was a lifelong Warren area resident. Nate graduated from Warren Area High School Class of 2010 and attended Bradford College in Pittsburgh, PA. for Graphic Design.
He had a great love and passion for music and was the bass guitar player and song writer for his band, East Coast Rhythm.
He enjoyed paint ball battles, and lived his life to the fullest.
He is remembered as always being a giving, optimistic and kind soul who always had a charismatic smile on his face.
He is survived by his parents, Timothy and Tammy Haight Sedon of Conover, N.C., his high school sweetheart, Amanda Guthrie, 3 Sisters – Jessi Sedon-Essad and husband, Michael, Elizabeth Sedon all of Pittsburgh, PA., Kathy Sedon and Ben Visnic both of Morgantown, W.V., 1 Brother – Tim A. Sedon and Shayla, Chamberlain of Warren, PA., Maternal Grandparents – Ray and Elizabeth Ustach Hesch, Paternal Grandmother – Joan Sedon all of Warren, PA., Best Friends and roommates, Joel VanOrd, Bubba Sweet, and Doug Sigmund, several aunts, uncles, cousins.
He was preceded in death by his infant brother – Joseph Sedon, paternal grandfather, Richard Sedon, paternal great grandparents – Leopold and Hulda Sedon and Lawrence and Florence Griebel, Maternal Great Grandparents – Edward and Frances Ustach.
Friends may call at the Donald E. Lewis Funeral Home, Inc., 304 East Street, Warren, PA. on Sunday, October 14, 2012 from 2 to 4 and 6 to 8 P.M. and on Monday, October 15, 2012 at the Warren State Hospital Interfaith Chapel from 12:00 Noon until 1:00 P.M. when a funeral service will be conducted there with Rev. Marcus Briggs, Chaplain of the Warren General Hospital, officiating. Interment will be St. Joseph R.C. Cemetery. Those wishing to place memorials may do so through a charity of one's choice. E-mail condolences may be sent by visiting www.lewisfuneralhomeinc.com