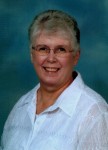 Nancy Ruth Bonavita, 71, of Warren, PA, died Sunday morning March 2, 2014, at 11:55 a.m., after a brief illness. Nancy was born March 3, 1942, in Warren, PA to the late Albert and Ruth Erickson Goodwill.
Nancy was a 1960 graduate of Warren Area High School and resided in Warren most of her life where she was employed with the National Forge, the former Lacy School, Allegheny Valley School, the Library Theatre and Goodwill's Mattress and More. She was a member of Holy Redeemer Roman Catholic Church. From 1991-2002, she lived in DuBois and was employed at Triangle Tech and Clearfield Mental Health Clinic and she was a member of Saint Catherine of Siena Church. Nancy was an avid reader, prolific knitter, and was known for her great love of family.
Nancy is survived by her children: Theresa Knight; Gregory Bonavita; Michael Bonavita and his wife, Colette Guadagnino Bonavita; all of Warren, PA; Christopher Bonavita and his wife, Rose Santillo Bonavita, of Collegeville, PA; and Col. Matthew Bonavita and his wife, Lorraine Betts Bonavita, of Springfield, VA; and Natalie Bonavita Spencer and her husband 1Lt. Matthew Spencer, of Arlington, VA; as well as her siblings: Sharon Eaton and her husband, James; Susan Curren and her husband, Richard, Stephen Goodwill and his wife, Kathi, all of Warren, PA; and Jay Goodwill and his wife, Mimi, of Sarasota, FL; as well as 14 grandchildren and many nieces and nephews. In addition to her parents, she was preceded in death by her daughter, Maria Knight, her nephew, Jamie Eaton, and two grandsons, Adam and Ian Bonavita.
Friends may call at the Donald E. Lewis Funeral Home, Inc., 304 East Street, Warren, Pa. from 2 to 4 and 6 to 8 p.m. on Wednesday, March 5, 2014 where a vigil service will be conducted at 8:00 p.m. Wednesday evening. A Mass of Christian Burial will be conducted at Holy Redeemer Roman Catholic Church at 10 a.m. on Thursday with Father James Gutting, pastor, officiating. Interment will be in St. Joseph Roman Catholic Cemetery. Those wishing to place memorials may do so through the Warren Public Library Association, 205 Market Street, Warren, Pa. 16365 or Bollinger Enterprises Inc. or a charity of one's choice. Those wishing to submit e-mail condolences may do so by visiting www.lewisfuneralhomeinc.com