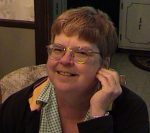 Nancy M. Youngberg Carlson, 75, of Warren, PA., died Thursday afternoon, March 30, 2017 at Warren General Hospital Emergency Room after suffering an apparent heart attack. She was born August 30, 1941 in Jamestown, N.Y., daughter of Gust A. Youngberg and Mary Ethel Dudgeon Youngberg Farley. She was a resident of the Youngsville and Warren, PA., area since 1980. Nancy was a 1959 graduate of Falconer High School and had been employed as a bank teller and retail clerk in Falconer and Jamestown, N.Y. She along with her husband had been co-owner of the Golden Dawn Grocery Store.
She was active with her children's lives, prior to losing her vision. She enjoyed long walks along Matthews Run Road, playing card games and cribbage with friends and family. She was a proud grandmother, collector of Angels, Bells, Thimbles, Snowmen and Cabooses. She lit up a room when she smiled and had a great sense of humor.
She is survived by her loving companion, Raymond Goetz of Warren, PA., her daughter – Amy L. Rossman and husband, Tim, 2 Grandsons – Neil Richard and Mitchell Carlson Rossman all of Scandia, PA., Daughter – in –law, Laurie Carlson of Warren, PA.,
1 Brother – David A. Youngberg and wife, Lucille of Falconer, N.Y., Sister – in – law, Dolly Youngberg of Russell, PA., Brother-in-law, Bud Carlson of Jamestown, N.Y., several nieces, nephews and cousins. In addition to her parents, she was preceded in death by her Stepfather – George W. Farley, Jr. and son – Bradley Scott Carlson, husband, Darwin Allen Carlson, 1 Brother – William Carl Youngberg.
The family will receive friends at The Crossing, corner of Pennsylvania Avenue and Hickory Street, Warren, PA., on Sunday, April 2, 2017 from 4:30 to 6:30 P.M., a Celebration of her life will be held at 5:00 P.M. by friend, Rev. Jeweline Roszanski.
Interment will be in Garland Cemetery, Garland, PA. Those wishing to place memorials may do so through Foundation Fighting Blindness, 7168 Columbia Gateway Drive, Suite 100, Columbia, MD 21046. E-mail condolences may be sent by visiting www.lewisfuneralhomeinc.com The Donald E. Lewis Funeral Home, Inc. has been entrusted with final arrangements.