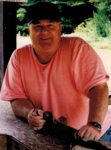 In the past, which is now lost forever, this man lived from October 9, 1939 until June 7, 2016. To those who knew Minor, he left us with many of his adventures and his love of wildlife through his artwork, sculptures, and stories.
His family meant a great deal to Minor. His father spent many hours afield teaching Minor upland bird hunting and native brook trout fishing and gave him these words to live by, "A man is only as good as his word," which Minor did all his life and shared with his son, Marshall.
Minor hunted "The Great Kodiak Island Bear" and sat sipping a sundowner in Kenya, while listening to a lion roaring off in the gathering darkness. He walked the black sand beaches of Tahiti and Bora-Bora and, not least of all, smelled fresh baked goods while walking down Duvale Street in Key West, Florida. All these things, not to be taken lightly, in this man's life, or any other's, to have done in their lifetime.
Minor is survived by his son, Marshall Kaltenbach of East Aurora, NY, a sister, Kay, living in Texas, 1 niece and 2 nephews.
At Minor's request, no visitation will be observed. A private memorial service will be given to Minor by his dear friends, Lee and Melissa Turk and Ron and Mary Jane Thomas. Arrangements have been entrusted to the Donald E. Lewis Funeral Home, Inc., 304 East Street, Warren, PA. E-mail condolences may be sent by visiting www.lewisfuneralhomeinc.com