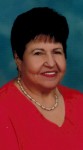 Minnie M. Siliano Menard, 85, of Warren, PA. died surrounded by her family, Sunday, February 22, 2015 at Warren Manor Nursing Home after an extended illness. She was born June 16, 1929 in Warren, PA. Minnie was the daughter of Frank and Theresa Scarpelli Siliano.
She was a lifelong Warren area resident. Minnie was employed at S.S. Kresge for 9 years, The Texas Lunch in the 1950's & 60's, State and Friendly Diners, Alexander Rashid Penn Restaurant, Harvey Carey's Castle Diner, Warren Components and Sheffield Tavern, she retired in 1986 from the Dietary Department of the Warren State Hospital after 17 years employment.
She was a member of Holy Redeemer R.C. Church and the church cursillo movement. Minnie is remembered as a person who loved her family and friends, and all who took care of her. She loved to joke with everyone and was the life of the party. She loved to have picnics and corn roasts, cook, decorate cakes and shopping.
She especially loved Christmas. Minnie will be greatly missed and remembered by her good sense of humor, and how she loved us all and made us laugh. Minnie looked forward to be with her Savior, Jesus Christ, and hoped many to follow.
She is survived by her daughter – Mary Ferry and husband, Jack of Warren, PA., 1 Brother – Jim Siliano and wife, Vilma, 1 Sister – Mary Highhouse and husband, Fred all of Warren, PA., 3 Grandchildren – Scott Skidmore, Lorie Whippo, Jack Ferry, Jr., 13 Great Grandchildren, 3 Great Great Grandchildren, several nieces and nephews.
In addition to her parents, she was preceded in death by 1 Brother – Joseph Siliano, 1 Grandson – Frank Skidmore, 1 Nephew – Chris McMillen, 1 Niece – Cindy Brown Horner.
Friends may call at the Donald E. Lewis Funeral Home, Inc., 304 East Street, Warren, PA., Tuesday, February 24, 2015 from 6 to 8 P.M. where a vigil service will be conducted at 7:45 P.M.
A Mass of Christian Burial will be conducted at Holy Redeemer R.C. Church, 11 Russell Street, Warren, PA. Wednesday, February 25, 2015 at 11:00 A.M. with Fr. James Gutting, Pastor, officiating.
Interment will be in St. Joseph Cemetery.
Memorial contributions may be made to Hospice of Warren County, 1 Main Avenue, Warren, PA. 16365 or National Kidney Foundation, 30 East 33rd St., New York, N.Y. 10016.
E-mail condolences may be sent by visiting www.lewisfuneralhomeinc.com
The family wishes to thank all who cared for her, Warren General Dialysis, all the doctors and nurses at the Warren General Hospital Emergency Room, U.P.M.C. Hamot, Hospice of Warren County, and the Warren Manor Nursing Home for the wonderful care she received.