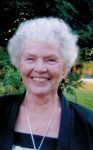 Millie L. Johnson, 85, of Warren, PA., and wintered in Pensacola,
FL., died Thursday morning, January 12, 2017. She was born June
30, 1931 in Chester County, PA. Millie was a Warren area
resident for most of her life. She was employed as a Machine
Operator at the former New Process Company for 24 years. Millie
was a great cook, loved the outdoors and especially spending
time with her grandchildren.
She is survived by her husband of 35 years, Burton M. Johnson
whom she married June 30, 1981 in Warren, PA., 4 Children – Bill
Bennett of Warren, PA., Clarissa Wiedert and husband, Mike of
Newton, N.C., Doris Boyce and husband, Dale of Wellsboro, PA.,
Tina Shaeffer and husband, Clay of Vale, N.C. 3 Step Children –
Ernest (Kevin) Johnson and wife, Paula of Russell, Pa., Lois
Owen of Warren, PA., Diane Kolasa and husband, Ray of
Strasburg, OH., 20 Grandchildren, several Great Grandchildren.
She was preceded in death by her former husband, Chester
Bailey, Stepson – James Johnson, Grandson – Jamie Boyce.
Friends may call at the Donald E. Lewis Funeral Home, Inc., 304
East Street, Warren, PA., on Saturday, January 14, 2017 from 2 to
5 P.M. A funeral and committal service will be conducted there
on Sunday, January 15, 2017 at 2:00 P.M. with Rev. Marcus Briggs,
Chaplain of the Warren General Hospital, officiating. Interment
will be in Warren County Memorial Park. Those wishing to
submit e-mail condolences may do so by visiting