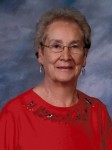 Mildred "Millie" Kahle Glotz, 88, of Russell, PA. went to be with
her Lord and Savior on Saturday morning, September 6, 2014 at
Warren General Hospital after an extended illness. She was born
April 23, 1926 in Warren, PA.
Millie was the daughter of Harry P. and Anna R. Eberhart Kahle.
She was a resident of Russell, PA. for the past 67 years and was
employed as a machine operator at the former G.T.E. Sylvania
retiring in 1987. She was a member of Russell United Methodist
Church and was a member of the Wednesday Woman's Circle,
and sponsored a child overseas. She was a former member of the
former Epworth United Methodist Church. Millie always had a
strong devoted faith and loved her family she made them the
center of her life. She was very enthusiastic about carrying on the
Christmas decorations tradition of the family homestead. She was
an avid birdwatcher, enjoyed reading and loved her pets.
She is survived by her children – Carolyn Brant and husband,
Charles of Russell, PA., Cynthia Joslyn and husband, Skip of
Jamestown, N.Y., Linda Hice and husband, Harold of Russell,
PA., Donna Bradley and husband, David of Warren, PA., Darlene
Lascola of Jamestown, N.Y., Robert C. Glotz and wife, Barbara
of Erie, PA., Ronald K. Glotz and wife, Sandy of Russell, PA., 18
Grandchildren, 21 Great Grandchildren, 3 Great Great
Grandchildren, several nieces and nephews.
In addition to her parents, she was preceded in death by her
husband of 51 years, Carl Glotz, Jr. who died June 14, 1998 whom
she married January 19, 1947 in Tidioute, PA. , 2 infant
granddaughters – Mary Elizabeth Hice, Katerin Kuzminski 1
Brother – Glenn Kahle, 2 Sisters – Helen Mayhe and Grace Oviatt.
Friends may call at the Donald E. Lewis Funeral Home, Inc., 304
East Street, Warren, PA. Tuesday, September 9, 2014 from 2 to 4
and 6 to 8 P.M. and one hour prior to a funeral and committal
service Wednesday, September 10, 2014 at 1:00 P.M. Rev. David
Heckman, Pastor, officiating. Interment will be in Warren County
Memorial Park. Those wishing to place memorials may do so
through a charity of one's choice or the Russell United Methodist
Church Building Center. E-mail condolences may be sent by
visiting www.lewisfuneralhomeinc.com