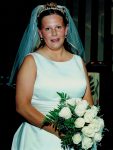 Michelle Lee Munksgard (Shell), 42, of Warren, PA, passed away on Saturday, March 31, 2018 at her home.
Michelle was born in Warren, PA on July 18, 1975 and attended Warren Area High School.
Not only was she loved by many, but was always the one to help others when they needed it. She had a huge heart and will be remembered for being a great cook amongst many other great qualities. Her biggest joy in her life was brought by her children; those beautiful children are Taylor, Cara and Ian. Michelle was preceded in death by her father, Richard Baxter and her mother, Juanita (Rodgers) Baxter.
Family and friends are invited to gather and remember Michelle on Thursday, April 5, 2018, from 6-8pm at the Donald E. Lewis Funeral Home Inc., 304 East Street, Warren, PA. A brief service will follow at 8pm. In lieu of flowers, memorial donations may be made to Paws Along the River, 212 Elm Street, Warren, PA, 16365. E-mail condolences may be sent by visiting www.lewisfuneralhomeinc.com