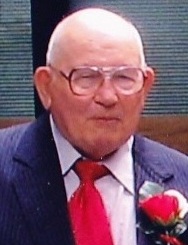 Michael V. Lindvay, 91, of Warren, PA. died Monday morning, September 17, 2012 after an extended illness. He was born September 5, 1921 in Lackron, Green Co., PA. to the late Michael and Mary Lindvay. He has resided most of his entire life in Warren County, PA. and was a 1941 graduate of Youngsville High School. He earned a certificate of blueprint reading at a correspondence school in Scranton, PA. Michael had served with the U.S. Army Air Corps in the U.S. Signal Air Warning Battalion as a signal corps ground aircraft observer, plotting, waterproofing and sharpshooting during World War II and received 5 bronze stars serving in Normandy, France, Belguim and Central Europe. He owned and operated the former Lindvay Diner in the 1960's in Youngsville, PA. and was employed for 35 years as a Class A Fitter with the former Pittsburgh Demoine Steel Corporation retiring from there in 1986. Michael was a member of Holy Redeemer R.C. Church and a former member of the Holy Name Society. He was a life member of the Clarendon V.F.W. and served as commander of the former Warren V.F.W. Post 631 and was district commander of the 19th District. He was a former commander of the Coodie and a member of the Warren American Legion Post 135, Lakewood Rod & Gun Club, Warren Eagles Aerie, Sugar Grove Senior Center Kitchen Volunteer and bingo caller. Senior Olympics participant, avid walker, walking 3 miles everyday, avid hunter, fisherman and gardener. He placed flags on veterans graves at Wetmore Cemetery. He made numerous clocks and sold them nationwide. He enjoyed gardening and helping his wife, can vegetables.
He is survived by his wife of 63 years, Gladys May Anderson Lindvay whom he married June 18, 1949 at St. Joseph R.C. Church, Warren, PA., 4 Children – Nancy Marie Gustafson and husband, Allan, Michael A. Lindvay and wife, Lona all of Warren, PA., Sue Ann Irvine and husband, Bruce of Pinetta, FL., Elizabeth McClellan and husband, Stanley, Jr., of Warren, PA., 1 Brother – Joseph Lindvay of Erie, Pa., 9 Grandchildren – Carrie Gustafson, Tracy Carlson and husband, Mathew, Christopher Lindvay and wife, Emily, and Kevin Lindvay and wife, Amanda, Douglas Irvine and wife, Bobbie and Dustin Irvine, Kellie Goldthwaite and husband, Joseph, Stephanie Larson and her husband, Toby, and Amy McClellan; 8 Great Grandsons; 5 Great Granddaughter, several nieces and nephews.
In addition to his parents, he was preceded in death by Andrew and Anna Zolko who raised him; and a sister – Mary Irman.
Friends may call at the Donald E. Lewis Funeral Home, Inc., 304 East Street, Warren, PA. on Thursday, September 20, 2012 from 2 to 4 and 7 to 9 P.M. A Mass of Christian Burial will be conducted at Holy Redeemer R.C. Church on Friday, September 21, 2012 at 11:00 A.M. with Fr. James Gutting, Pastor, officiating, assisted by Deacon Joseph Lucia and Deacon Raymond Wiehagen. Entombment will be in the Mausoleum of the Resurrection in St. Joseph R.C. Cemetery where full military honors will be conducted by members of the Clarendon/Sheffield V.F.W. Funeral Detail and the U.S. Army Personnel. Those wishing to place memorials may do so through Hospice of Warren County, 2 Crescent Park, Warren, PA. 16365 or a charity of one's choice. E-mail condolences may be sent by visiting www.lewisfuneralhomeinc.com