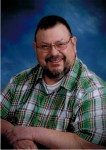 Michael "Mick" Anthony Napolitan, 68, of Warren, PA, passed away Saturday, May 17, 2014 at U.P.M.C. Hamot, Erie, PA. Born May 12, 1946,
in Kane, PA, he was the son of the late Michael and Antoinette
(Santaniello) Napolitan. Mick was a graduate of Smethport Area High
School and attended Mansfield University. He went on to manage the
family garage and gas station in Hazel Hurst, Pa. Upon moving to Warren,
he worked as a sawyer for Probst Lumber Company. He then worked for
the Warren Times Observer as a rural paper carrier for 16 years before
retiring. After his retirement, he continued to work part-time at the Warren
YMCA. He enjoyed spending time with his family, especially his
grandchildren. He also enjoyed hunting, fishing, collecting coins and
growing his vegetable garden.
He is survived by his wife of 44 years June Kelley Napolitan; his daughter Michele
Napolitan of Erie, PA; two sons, Michael (Ami) Napolitan of Conshohocken,
PA and Mark (Erin) Napolitan of Warren, PA; and two sisters, Rose Cronk
of Portsmouth, NH, and Margaret (Joseph) Segulin of Mount Jewett, PA.
He had five grandchildren, Rylee, Taylor, Jack, Kaitlyn, and Ryan
Napolitan, as well as several nieces and nephews.
Preceding him in death, in addition to his parents, were his sisters, Therese
Ostroski; and Carmela Napolitan.
Friends and family will be received from 2 to 4 and 6 to 8 p.m. on Thursday,
May 22, 2014 at the Donald E. Lewis Funeral Home, Inc., 304 East Street,
Warren, PA. A Mass of Christian Burial will be celebrated at 10:00 A.M. Friday,
May 23, 2014 at Holy Redeemer R.C. Church, 11 Russell Street,
Warren, PA, with the Father James Gutting, pastor, officiating. Interment
will be in St. Joseph R.C. Cemetery, Warren, PA.
Those wishing to place memorials may do so through the Holy Redeemer
R.C. Church Building Fund, 11 Russell Street, Warren, PA 16365. Email condolences may be sent by visiting www.lewisfuneralhomeinc.com