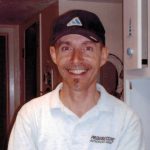 Michael Andrew Brown, age 60, beloved son, brother, uncle, father, and grandfather, passed
away Wednesday, October 5, 2016 in Florida. With a smile on his face and surrounded by
family, he peacefully passed into his eternal home.
Michael was born August 2, 1956 to William and Constance Mazzuca Brown. He was preceded
in death by his father, as well as his maternal and paternal grandparents.
He graduated from Agua Fria Union High School, then attended Pima Community College, both
in Phoenix, AZ. He also attended Edinboro University in Edinboro, PA.
Michael worked with the disabled for many years both in Pennsylvania and NY. After relocating
with his family to Florida, he worked as an insurance agent.
Michael had a strong faith which he lived daily through service to others. He often put the needs
of others ahead of his own. His sons recall as young boys they would drop everything to lend a
helping hand. Michael was a friend to everyone he met. He is fondly remembered by many as a
mentor and a friend.
The simple pleasures of life were especially meaningful to Michael: gardening, walks on the
beach searching for shells and shark's teeth, and fishing with his sons and grandson. He loved
interior design and was an avid collector of beautiful art glass pieces. Sports was another passion
of Michael's. As a young boy and later in high school, he played baseball, won many bowling
trophies and lettered in track and field. He closely followed college basketball as well as his
other favorite sports teams: the Pittsburgh Pirates, the Pittsburgh Steelers and the Pittsburgh
Penguins.
Michael is survived by his sons John M. Brown and Julio Ramos, grandson Dominick Michael
Brown and granddaughter Aaliyah Lynn Ramos. He is also survived by his mother, Constance
Brown; siblings Cheryl (Ron) Burnett, Denise (Tom) Patterson, Ellen Brown, Mary (Todd)
Seybert, and David Brown; Aunt Mary Lou Gnage, Uncle Harold Gnage and many cousins,
nieces and nephews.
A private family service was conducted by Reverend Walter E. Packard followed by internment
at St. Joseph's Cemetery. A celebration of Michael's life was held later in the day.
Those wishing to place a memorial may do so through the Jimmy V Foundation for Cancer
Research at 14600 Weston Parkway, Cary, North Carolina 27513 or online at: www.jimmyv.org
or through St. Jude's Children's Research Hospital at 501 St. Jude Place, Memphis, TN 38105 or
online at: www.stjude.org The Donald E. Lewis Funeral Home, Inc. was in charge of local
arrangements. Email condolences may be sent by visiting www.lewisfuneralhomeinc.com