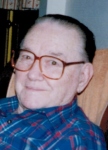 Merle L. Jenkins, a longtime resident of Warren, PA, passed away Saturday, January 3, 2015 at the Rouse Warren County Home at the age of 100.
Born on August 10, 1914 in Coudersport, PA he was the son of the late Donald and Gladys Ostrander Jenkins. Merle attended school in the Emporium, PA and Sheffield, PA areas. He lived in Warren since 1946 and was employed with the former G.T.E. Sylvania Corporation as a tool and die maker for 26 years. He enjoyed hunting, riding motorcycles and playing the accordion.
Merle is survived by sons Merle A. (Pam) Jenkins of Tallmadge, OH and their children, Alicia (and fiancé Chris), Melissa, Julianne, and Emily Jenkins, and David L. (Mary) Jenkins of Warren, PA and their children, Matthew and Daniel Jenkins. He is also survived by a son, Carl, and daughters Judy and Gladys, and their children, from a previous marriage. In addition to his parents, Merle was preceded in death by his wife, Victoria Chiodo Jenkins, whom he married on June 7, 1952 and who died on July 10, 2007, and one brother, Earl Jenkins.
Friends may call from 5:00 P.M. – 8:00 P.M. today, Monday, January 5, 2015 at the Donald E. Lewis Funeral Home, Inc., 304 East Street, Warren, PA. Funeral services will be held at 1:30 P.M. Tuesday at the funeral home with Fr. Richard J. Toohey, Pastor of St. Joseph R. C. Church, officiating. Interment will be in St. Joseph R. C. Cemetery, Warren, PA. Memorial contributions may be made to a charity of one's choice. E-mail condolences may be sent by visiting www.lewisfuneralhomeinc.com