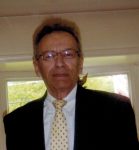 Melvin R. "Mel" Kramer, 70, of Youngsville, PA., died Sunday,
October 1, 2017 at Allegheny Health Network, St. Vincent
Hospital, Erie, PA. He was born July 25, 1947 in Pittsburgh, PA.,
to the late Melvin R. Kramer and Betty Fey Kramer Carr. Mel was
a resident of Youngsville, PA., since 1994, moving there from
Pittsburgh, PA. He was a 1965 graduate of Millvale High School.
He was disc jockey for weddings and private parties, and was
employed as a truck driver with A.C.D.S. Inc. for several years,
retiring in 2006. Mel was a Vietnam War veteran, with the rank of
Sergeant, earning a National Defense Service Medal, Good
Conduct Medal, Vietnam Service Medal and a Campaign Medal.
He was a member of the Starbrick Disabled American Veterans
Chapter 75, Brookline American Legion, Life member of the
Veterans of Foreign Wars,
St. Luke's R.C. Church and the church Knights of Columbus.
He is survived by his loving wife of 48 years, Susie O'Briant
Kramer whom he married March 29, 1969, 4 Children – Brian C.
Kramer of Grand Rapids, Michigan, Melvin R. Kramer, III of
Pittsburgh, PA., Jason M. Kramer and wife, Theresa of
Washington, PA., Katie E. Kramer of Pittsburgh, PA., 9 Siblings –
Bobby Kramer and wife, Bobbi, Jim Kramer and wife B.J., Ken
Kramer and wife, Joanne, Norman Kramer and wife, Shirley,
Nanette Drozdowski and husband, Ted, Betsy Powell and
husband, Rich, Danny Kramer and wife, Lisa, Donnie Kramer and
wife, Sue, Bernie Kramer and wife, Erin, 3 Step-Sisters – Judy
Mancuso and husband, Carmen, Cathy Ford and husband, Rich,
Denise Ellsworth, 3 Grandchildren – Lilly, Patrick and
Christopher Kramer, several nieces and nephews.
In addition to his parents, he was preceded in death by his
stepfather – Frank Carr. Friends may call at the Donald E. Lewis
Funeral Home, Inc., 304 East Street, Warren, PA., on Thursday,
October 5, 2017 from 6 to 8 P.M. A Mass of Christian Burial will
be conducted Friday, October 6, 2017 at St. Joseph R.C. Church,
600 Pennsylvania Avenue West, Warren, Pa., at 10:00 A.M. with
Fr. Richard Tomasone, Pastor, officiating. Interment will be in
Warren County Memorial Park, where full military honors will be
conducted by members of the Sheffield/Clarendon V.F.W.
Funeral Detail and the U.S. Army personnel. Those wishing to
place memorials may do so through D.A.V. Chapter 75. E-mail
condolences may be sent by visiting