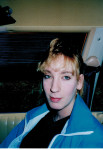 Melissa "Missy" L. Castor, 45, of Warren, PA., died Tuesday
afternoon, February 9, 2016 at U.P.M.C. Hamot, Erie, PA., after an
illness of the past 6 months. She was born March 29, 1970 in
Warren, PA. Missy was the daughter of the late John Castor and
Deanne Benson Castor Palmer who survives in Warren, PA.
Missy was a lifelong Warren area resident and was employed for
5 years in the electrical supplies distribution industry. She had
attended St. Paul Lutheran Church. Missy enjoyed bowling,
hunting, fishing, country music, four wheeling, gardening. She
was a devoted mother and wife to Joey and Scott.
In addition to her mother she is survived by her fiancé of 25 years
D. Scott Nowacki, Joey Nowacki and his fiancé, Briana Sleeman,
and granddaughter, Aiyanna Nowacki , 2 Sisters – Vonnie Betts
and husband, Kane, Erica Castor all of Warren, PA., 1 Brother –
Johnny Castor of Sheffield, PA., Maternal Grandmother – Audrus
Farnsworth Benson of Warren, PA., several aunts, uncles, cousins,
nieces and nephews.
In addition to her father, she was preceded in death by her
stepfather, Ervin H. Palmer, Paternal Grandparents – Norman
and Alverga Castor, Maternal Grandfather – Robert L. Benson.
Friends are invited to attend a memorial service on Saturday,
February 13, 2016 at 1:00 P.M. at St. Paul Lutheran Church, 306
Conewango Avenue, Warren, PA., with Rev. Larry Scofield,
Interim Pastor, officiating. Interment will be in Oakland
Cemetery. Those wishing to place memorials may do so through
National Stroke Association, 9707 E. Easter Lane, Suite B.,
Centennial, CO 80112. The Donald E. Lewis Funeral Home, Inc.,
has been entrusted with funeral arrangements. E-mail
condolences may be sent by visiting