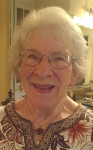 May Lorraine Walker Bongle Weber, 92, formerly of Follett Run Road, Warren, PA, died Sunday, November 2, 2014 at the John and Orpha Blair Hospice Home.
May was born on May 20, 1922 in Egg Harbor, Wisconsin, the daughter of the late Charles and Delia Thenell Walker. She was a 1940 graduate of Sturgeon Bay (Wisconsin) High School. She had lived in the Warren area for the past 60 years where she was a member of the North Warren Fire Hall, North Warren Crafters, and a life member of the American Legion Auxiliary and the Lakewood Rod and Gun Club. She served for 18 months in the Women's Army Corps during World War II.
May is survived by her four children, Dolores (Dee Dee) Tucker and her husband, Bill, of Warren, PA; Lorraine (Lorry) Hazelwood and her husband, David, of Hot Springs, AR; John C. Weber, Jr. and his wife, Kathy, of Warren, PA and David E. Weber and his wife, Denise, of Russell, PA, 11 grandchildren, 21 great-grandchildren and a sister-in-law, Maureen Weber of Sturgeon Bay, WI and many nieces and nephews. In addition to her parents, May was preceded in death by her husband, John Charles Weber, Sr., whom she married on September 22, 1949 and who died on February 28, 2010. She was also preceded in death by her first husband, Earl Bongle, 3 sisters and 2 brothers and their spouses, and a brother-in-law, Chaunce Weber.
Friends may call on Tuesday, November 4, 2014 from 5:00 P.M. until 7:00 P.M. at the Donald E. Lewis Funeral Home, Inc., 304 East Street, Warren, PA where a memorial service will be held at 10:00 A.M. Wednesday with Dr. Mark E. Hecht, Senior Pastor of First United Methodist Church, Warren, PA, officiating. Burial will be at the convenience of the family in Weiler Cemetery. Those wishing to place memorials may do so through Heifer International, P. O. Box 6021, Albert Lea, MN, 56007-9831. E-mail condolences may be sent by visiting www.lewisfuneralhomeinc.com