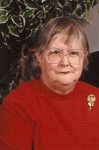 Mary Ann Murphy, 81, of Warren, PA., died peacefully Saturday
morning, April 8, 2017 in Fayetteville, N.C. with her family at her
side. She was born February 7, 1936 in Norristown, PA., daughter
of the late Francis and Anna Deegan Kuhn. She married Leo
Patrick Murphy, Jr. on January 4, 1958 in Houston, TX.
Mary Ann was a longtime Houston, TX., resident, retiring to
Warren, PA.
She was a member of Holy Redeemer Roman Catholic Church.
She was a member of the doll club and an active member of the
Warren Genealogy Society. She also participated in the silver
sneakers until her health declined.
She is survived by her 5 children – Allan Murphy of Katy, TX.,
Sharon Hernandez and husband, Paul of Austin, TX., Donna
Murphy of Houston, TX., Joann Murphy of Jacksonville, N.C.,
Lawrence Murphy and wife, Marsha of Fayetteville, N.C., 10
Grandchildren, 4 Great Grandchildren, several nieces and
nephews
In addition to her parents, she was preceded in death by her
husband of 58 years, Leo Patrick Murphy, Jr., brother Francis
Kuhn Jr., and sister Elizabeth Reynolds.
Friends may call at the Donald E. Lewis Funeral Home, Inc., 304
East Street, Warren, PA., on April 11, 2017 from 6 to 8 P.M. where
a vigil service will be conducted at 7:45 P.M. by Deacon Raymond
Wiehagen. A Mass of Christian Burial will be conducted at 11:00
A.M. on April 12, 2017 at Holy Redeemer R.C. Church, 11 Russell
Street, Warren, PA., with Fr. James Gutting, Pastor, officiating.
Interment will be in St. Joseph R.C. Cemetery. In lieu of flowers,
memorial donations may be sent to Anna Shelter, 1555 East 10th
Street, Erie, PA 16511. E-mail condolences may be sent by visiting