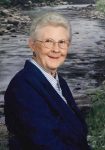 Mary Ann "Mem" Kocur, 92, of Lander, PA., died Monday morning, December 24, 2018 at the John and Orpha Blair Hospice Home, Warren, PA. Mary Ann was born February 25, 1926 in Clarendon, PA. to the late Marcey and Mary Gulch Bednez. She has resided most of her life in Clarendon, Pa., and was formerly of Frewsburg, N.Y. for 34 years.
Mem was an avid walker, reader, fisherman, lover of basketball, football and especially the Yankees Baseball Team. She enjoyed completing jigsaw puzzles and word games. Mem was noted for baking wonderful apple pies with cheese. She loved her companion and friend, her dog, Chip.
She is survived by her daughter – Connie Onorotti (Dave) of Warren, PA., her sons – Paul Kocur of Pennsylvania,
Robert Kocur of Jamestown, N.Y., 4 Grandchildren – MichaelOnorotti, Angela (Kenny Seyler) and Andrew Ono <>rotti all of Warren, PA., Tiffany Waddle (Wade) of Derby, KS., 3 Great Grandchildren – Olivia & Keith Waddle and Nash Seyler. Several nieces and nephews
In addition to her parents, she was preceded in death by her husband, Steve Kocur whom she married July 3, 1953 in Frewsburg, N.Y., 5 Brothers – Walter, Teddy, Edmond, Casmir and Joseph Bednez, 4Sisters – Frances Sharp, Dorothy Kujawa Bernice Pokosh, Eleanor Gould.
A private funeral service will be conducted at the convenience of the family.
Interment will be in St. Joseph Cemetery, Warren, PA.
Those wishing to place memorials may do so through Hospice of Warren County, 1 Main Street, Warren, PA. 16365. E-mail condolences may be sent by visiting www.lewisfuneralhomeinc.com The Donald E. Lewis Funeral Home, Inc. has been entrusted with funeral arrangements.